In quick response to the Egyptian government's decision to close schools and universities for two weeks, as a measure to prevent the spread of coronavirus, Orange Egypt and Avaya have partnered to jointly enable all educational institutions in the country to implement remote learning initiatives.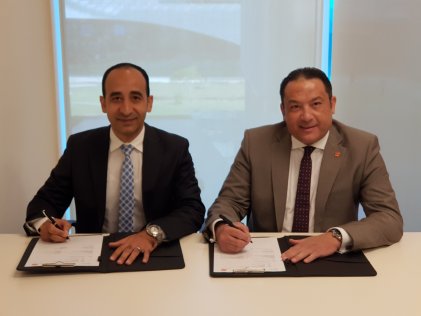 This follows the ongoing support by the two organisations for digital transformation and government-led innovation initiatives in Egypt and will serve to mitigate the impact of the Covid-19 pandemic on the country's education sector.
As per the collaboration agreement, Avaya will offer educational institutions in Egypt full-feature access to its flagship collaboration app, Avaya Spaces, for free. Avaya Spaces, is a cloud meeting and team collaboration solution that integrates chat, voice, video, online meetings and content sharing.
Highlighting the significance of his company's collaboration with global technology vendors such as Avaya, Hisham Mahran, Vice President of Orange Egypt for the corporate sector said, "It is clear that technology plays a pivotal role in our day to day lives and is an especially valuable tool in such challenging times. Our partnership with Avaya is another testament to Orange Egypt's commitment to supporting the digital transformation of key sectors in the country. The solution that we are jointly offering enables educational institutions to maintain the safety of students as their top priority, while ensuring minimum disruption to their education."
"Orange Egypt has invested heavily in building an advanced network that serves as an enabler of business and today we are reaping the benefits of this investment. We will continue to engage with global technology leaders such as Avaya to deliver smart solutions that drive economic growth in Egypt, while fostering the wellbeing of society," he added.
Ahmed Fayed – Country Manager for Egypt & Libya at Avaya said, "As a socially responsible organisation, Avaya is deeply committed to providing technology for the good of humanity. In line with the recommendations made by the government to contain the spread of this pandemic, we are offering some of our premium communications and collaboration solutions for free to businesses and individuals in Egypt. We are proud to do so in collaboration with our strategic alliance partner, Orange Egypt, as they too have embraced their social obligations at the time of this crisis."
The app being jointly offered by Orange Egypt and Avaya works on all Android and iOS smart devices and can also be securely accessed on personal computers and laptops via Chrome or Firefox browsers. It enables teachers and administrative staff to reliably communicate with parents, students and each other to minimise learning disruption amid the school closure.
Using the app, students will be able to participate in virtual classrooms from any location, with the ability to download study materials and send assignments to teachers electronically.
Parents too will benefit from the new offering as the app allows them to hold virtual meetings with professors, share inquiries and observations, and establish dedicated digital forums where they can engage with each other as well as with teachers, administrators, or staff in the educational institution.