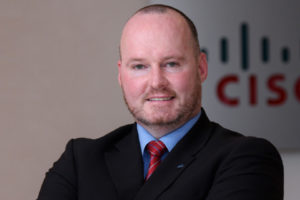 Cloud platforms are entering a new phase with higher expectations of returns pivoting around adoption of hybrid cloud, writes Clinton O' Leary, Cloud Lead, Cisco Middle East.
Phase one of cloud adoption is now leading into phase two. How do IT managers build a universal policy to deploy and manage applications across multiple cloud platforms, using various technologies, that gives the end users choice, benefit and security in a seamless and transparent manner?
Across 'phase one' of cloud deployment, there are very few IT managers who have gone all-in with private cloud or all-in with public cloud. IT and business managers have come to realise that no single type of cloud platform can deliver all the requirements of business and IT users. Workloads must be able to move across different types of cloud platforms and different providers for reasons decided by end users over time. However, this is usually not so straightforward.
A right step in this direction is to have generic profiles associated with application workloads that can be ported and automated across cloud platforms. This step marks the entry of the hybrid cloud in a more productive form, that is more coordinated with the demands of the digital enterprise and digital transformation.
A benchmark of success in hybrid cloud is having the technology and operational processes to move any type of application workload into any type of cloud environment. This transforms the organisation from one which uses a manual platform and workload selection process into an automated one. This helps to generate the best price to performance benefits, while meeting end user and IT user requirements. IT managers typically require control and adherence to company and regulatory guidelines and policies. While business users and IT developers want self-service and fast access to cloud infrastructure.
The 'second phase' of cloud adoption moves away from service level agreements and cost cutting that so dominated phase one of cloud adoption. End users are now expecting strategic gains such as converting returns into revenue growth from using various forms of cloud.
The cloud platforms in-play include public cloud, private cloud at customer site, private cloud at provider's site, and on-site deployment. Based on how the IT department manages workloads across these platforms they can be classified into five levels of increasing usage maturity. These include ad-hoc, opportunistic, repeatable, managed, and optimised.
While over 60 percent of organisations are considering cloud platforms for deployments, the percentage of users who are currently managing cloud workloads strategically, is much lower. Surveys indicate that out of those organisations using and deploying cloud platforms, only 25 percent can be considered with repeatable, managed, optimised, workload maturity levels.
Very broadly, these maturity levels distinguish organisations that have increasing capability levels in being able to distribute workloads on platforms that generate the best returns, with sufficient security, based on previously set up and automated policy decision making.
Adopting a hybrid cloud platform is more complex than adopting a singular cloud platform. Most organisations using cloud platforms tend to have their own definitions of hybrid cloud. But amongst the common parameters used to describe hybrid cloud are workload portability and the ability to combine public and private cloud platforms.
In simpler terms, mature cloud users can automatically burst amongst internal and external cloud providers using workload portability, location, policies and governance. They can also leverage load balancing between public and private cloud platforms.
By proactively working along these guidelines, end users can progress and align the benefits of using hybrid cloud platforms with their enterprise digital strategies and generate significant returns.