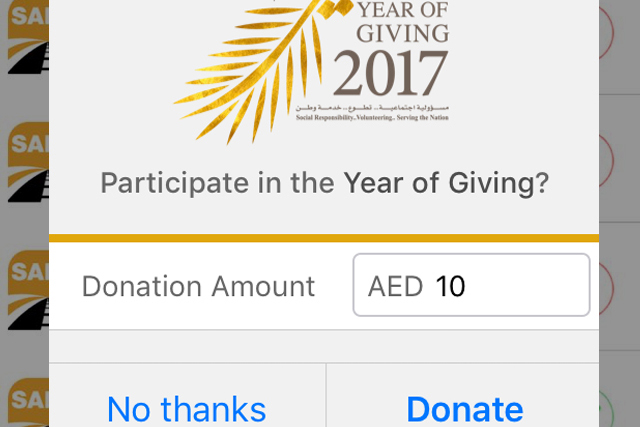 The Smart Dubai Office (SDO) has launched a new online initiative to mark the Year of Giving 2017, issued by His Highness Sheikh Khalifa bin Zayed Al Nahyan, President of the UAE.
SDO customers who pay for their purchases using the Dubai Now application receive a message allowing them to enter a donation to relevant UAE-based charities, under the supervision of the Government of Dubai.
"Institutions at all echelons of the Dubai Government draw inspiration from our wise leaders who have directed us all to be charitable," said SDO director general HE Dr Aisha Bint Butti Bin Bishr. "They inspire us to work for the greater good of the UAE, and to always put people and their happiness first when we set our policies and launch our initiatives. We are all working to spread happiness in the UAE, which has become a prime destination for young professionals from all around the Arab world and beyond."
"At Smart Dubai," Dr Aisha added, "we draw inspiration from H.H. Sheikh Mohammed Bin Rashid Al Maktoum, who once said: 'True charity is making a difference.' With that in mind, we strive to always make a difference not only with what we give, but also how we give it, which reflects our passion for smart technology and our commitment to making Dubai the smartest and happiest city in the world.
"Our initiatives not only encourage our users to donate, but also keep them up to date with the advancements taking place all around them as Dubai's smart transformation carries on," Dr Aisha noted. "It is a unique approach whereby technology is tailored to meet the needs of individuals from all segments of society."