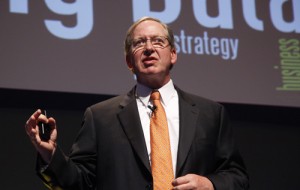 At its Universe event in Copenhagen, Teradata unveiled a new approach to big data which allows organisations to embrace the technology in an easier and more affordable way. But they still need to learn more if it's going to work. 
CIOs in the Middle East need to start to learn what Apache Hadoop and SQL-H are in order to understand the true value of big data.
That was the general message at Teradata Universe in Copenhagen, where big data was very much top of the agenda.
Stephen Brobst, CTO, Teradata, acknowledged that the average CIO may or may not know what Hadoop, and certainly doesn't know what SQL-H, means to them, but they are both things that should now be in their vocabulary.
"Hadoop is something they ought to understand because open-source technology allows you to change the economics on gathering very large data," he said.
Big data is gradually transitioning as a buzz term to a top priority for senior IT executives across the Middle East, who are looking to extract value from their data.
Apache Hadoop is an open-source framework that allows organisations to process large amounts of data, regardless of its structure, at a low cost, and has largely been attributed to driving the growth of the big data industry.
However, Hadoop has presented the industry with challenges related to security, standards, and most significantly, a lack of talent in data science.
"I do a fair amount of work in the Middle East and there are definitely countries that are more sophisticated than others – specifically in Saudi, Egypt, and to a lesser extent, the UAE," Brobst said. "They are starting to explore the opportunities for using big data and open-source technologies to change the economics of dealing with this big data.
"By big data, I don't only mean high-volume data, I mean diversity of data from non-traditional sources like Web log and OSS data.
"From a CIO perspective, it's about changing the economics to allow them to get access to order-of-magnitude more data without having to pay order-of-magnitude more cost to their bottom line."
Teradata used its event in Copenhagen to unveil Teradata Enterprise Access for Hadoop, a solution which makes it the first company to offer business analysts streamlined and self-service access to Hadoop.
The solutions allows organisations to reach directly into Hadoop to find new value from data analysis, and enable quicker and smarter strategic decisions, the company said. It enables data scientists to escape application development and work on high-value activities. They can also gain a better understanding of the data lineage to determine its reliability and accuracy.
The solution works within the Teradata Unified Data Architecture, which brings together Teradata, Teradata Aster and Hadoop technology, as well as best-of-breed partner tools, to create a cohesive architecture. According to Teradata, this makes it the first vendor to provide a truly comprehensive framework to handle all types of data and any analytics techniques.
"Teradata Enterprise Access for Hadoop empowers organisations to dig deeply into files and data residing in Hadoop and combine the data with production business data for analyses and action," said Scott Gnau, President, Teradata Labs.
"The result is an analytic environment capable of meeting the operational and strategic needs of thousands of users, running hundreds of applications, on any data, at any time."
Teradata also introduced the Teradata Active Enterprise Data Warehouse 6700 platform, which adds a fabric-based hyper-speed nervous system and a new core analytic brain to the Teradata Unified Data Architecture.
These new innovations enhance the ability of organisations to exploit all their data regardless of its type, the data company said during the announcement in Copenhagen.
"The issue and opportunity is that if I only store a bunch of data very cheaply, who cares, because I've got to create value from it," Brobst said. "So the idea related to the platform announcements is you want to be able to get access to that data in a way that does not require you to have an army of PHDs in computer science."
According to Brobst, a lot of the big data technologies were developed mainly by dot com companies in Silicon Valley, which are rich in Stanford PHDs and Java programmers.
"The average telco or bank in the Middle East is not rich with Java programmers or PHDs from Stanford University," he said. "So you need a platform that allows a data scientist who is technology competent and savvy, but not a computer scientist, to get value from the data.
"The bottom line for a CIO is to give value to the business using skill sets which we have at order-of-magnitude lower price-per-terabyte for accessing that. You leverage the open-source technology, but add value-add on top of it that allows the data scientist to be successful, because the skill sets are not as available in the Middle East as they are in Silicon Valley.
"We just have to face that reality, and that would be true in almost anywhere compared to Silicon Valley, quite frankly. And even in Silicon Valley, the skill sets are scarce, much less outside of Silicon Valley."
Mike Coehler, CEO, Teradata, referred to the Teradata Unified Data Architecture as a "blueprint of what an optimal data architecture and analytics environment should look like."
In a way, it's an analytics infrastructure to help customers design their own blueprint and architecture, he said.
"It incorporates the past and the present as it relates to how companies are doing business – so past and present channels of data, and also analytic platforms – and how you marry that to and include something that's newer to most organisations, like Hadoop, to digest all these big sets of data."
According to Hermann Wimmer, President, Teradata, the new approach allows organisations to embrace big data without breaking the bank.
"You have to build up a blueprint which is in a cost-efficient way," he said. "We are all optimistic that data drives value, but if the costs get unlimited for a customer, they will not invest. So the blueprint helps to do it in the right way with the right cost structure."