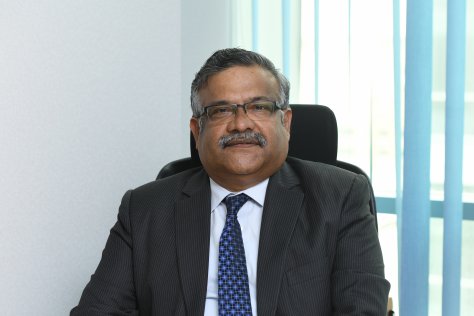 Saaed Khan, vice president and head, Sales, Middle East, AGC Networks, elaborates on the firm's revamped business divisions and how it aims to be a solutions player in the digital era.
As operating successfully in a digital era becomes a top priority and concern for customers, regional systems integrators are compelled to evolve their businesses to meet these growing market demands.
In line with this, systems integrator AGC Networks has recently undergone a major restructuring in terms of products and services that it offers to customers, both, globally and locally.
[To learn more about how artificial intelligence can transform the healthcare sector, register for TahawulTech.com's Power of 4: Fourth Industrial Revolution Forum | For more stories on success and business transformation through technology subscribe to our newsletter.]
Saaed Khan, vice president and head, Sales, Middle East, AGC Networks, says, "Reacting to opportunities in the market, we have restructured our offerings into four broad categories – unified communications (UC), data centre and networking, cybersecurity and professional services."
Established in 1986 and headquartered out of India, AGC Networks is a global technology solutions integrator with an objective to enable customers to focus on their core competencies to guarantee growth.
Over the past few months, the company has been working on increasing its brand awareness among its enterprise customers.
Khan says, "One of our biggest milestones include winning a huge contract from a leading regional customer. Our awareness in the market has grown extensively over the last six months."
Khan believes that the market is slowly becoming well-versed with AGC and its value-added offerings.
"Customers appreciate that AGC focuses on services, which are more value-driven rather than just implementing a product. We have now evolved into a solutions-oriented organisation determined to cater to customers' business demands."
Within the unified communications category, customers can expect end-to-end UC solutions based on the Avaya platform while in the data centre and networking area, the systems integrator works primarily with HP as its partner.
Having rekindled its relationship with Cisco and Fortinet, Khan says that the firm now provides well-structured solutions based on these products.
He adds, "When we go and talk to customers, it is not from the perspective that we are a HP or Cisco reseller, instead our aim is to consult and understand what drives their business. Then, we break it down to how IT would facilitate that growth or management of business, post which, we come back and do the due diligence and finally design the customised solution."
Close to a year ago, the cybersecurity division was a separate one within the firm. Globally, the company decided to merge it into one single entity.
"Globally, all our account managers are now selling cybersecurity. However, we are focusing only in three areas – DLP with Forcepoint, email phishing solutions with Cofense and SIEM solutions with LogRhythm
"When we go and speak to customers about cybersecurity, we have to ensure that we play on our strengths. We look at these niche offerings because we have identified that these are the three areas where customers demand world-class security services. To provide quality comprehensive solutions, we have gone ahead and partnered with these three security vendors."
Within its professional services business, the systems integrator's major focus is on artificial intelligence (AI) and robotics.
He explains that over the last four months, the firm has been able to create a niche for itself and now competes only with the likes of IBM and Accenture, in this area.
"As of today, there is no other organisation, who can boast the whole offering as far as AI and robotics are concerned," Khan adds. "We have already completed three successful POCs, won a small project from a major telecom provider in the region, currently working close to around 15 opportunities out of which seven have been shortlisted for RFP (request for proposals). And among those RFPs, only firms like IBM and Accenture are competition as there are no local companies in this space."
Regional customers have shown immense interest in AI and robotics, according to the VP. He emphasises that it is important to understand that AI and robotics are two separate offerings.
"At the moment, robotics essentially is Robotic Process Automation (RPA). The current challenge here is the lack of skilled talent and the high cost of resources. Organisations need to invest in an army of people and figure how to reduce costs by half, if they invest into services.
"Automation increases your services to end customers. If one looks at AGC and what offering we are doing, it will be apparent that it is different from that of many organisations as they typically focus inwards. They look at internal servers and other processes, nobody focuses on end customers. Today, it is a competitive environment. If I'm struggling to retain customers then they are also finding it difficult to hold on to their patrons," he explains.
This is why, at AGC, the attention is centred around customers and addressing their challenges.
"We take every decision keeping in mind how it impacts our customers."
Khan says that the company has witnessed growth across all its divisions over the last few months.
"Our customers believe in what we offer as it is all about providing them value-add."
However, he also admits that what has worked to their advantage is the fact that they are not spreading themselves too thin.
"We are only going to select customers where our relationships are strong," he adds.
Another area of focus for the SI is around cloud services. As Oracle's first managed service provider (MSP) partner, the firm is ready to cater to customers as soon as the vendor's data centre is launched in Abu Dhabi.
"Understanding clients want comprehensive services, we are ready, having completed the trainings and the required certifications, to help customers with their end-to-end cloud needs."
Khan says that the focus for the next six months will continue to be growing these areas.
"We have been receiving a good response from our customers and will work on catering to their demands."
He also adds that there is no doubt that the next phase for a systems integrator is to be a "solutions provider" and this is what AGC is aspiring to do.
"We are looking to close our financial year in March with a 100 percent growth. We have seen results coming in and we are building up the momentum. We already have a strong pipeline and a young team that is being mentored by seasoned players. We look forward to a high-growth year," he says.