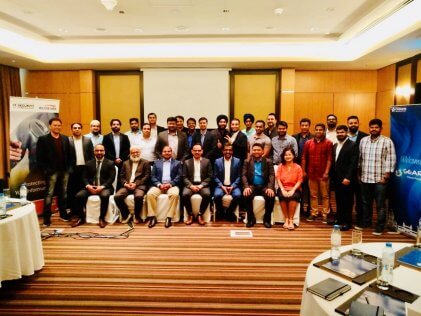 UEM solution provider 42Gears Mobility Systems and regional distributor Bulwark Technologies, recently held a partner summit event for IT resellers in the Middle East region.
Industry experts discussed current IT trends, addressed the advantages of Unified Endpoint solutions for enterprises and small and growing businesses, and delivered best practices for selling security, enterprise mobile management (EMM) solutions and services.
Attendees engaged in a series of presentations and demonstrations, to educate and enable Bulwark's partners in the Middle East region. There was a Voice of Partners session inviting some of key partners to highlight on the support and value-added services provided by 42Gears and Bulwark for right positioning and reach out to customers in the region.
The event concluded on a high note with a felicitation and awards ceremony to the top five emerging partners in the region. The proud winners were: Virus Rescuers, Strong Roots Technologies, Net Desire Technologies, Data Capture Systems & Unicorp Technologies LLC.
Jose Thomas Menacherry, managing director, Bulwark Technologies said, "42Gears delivers best-of-breed services UEM solutions for millions of end customers worldwide. By bringing together our channel partners, the event created better opportunities for networking, partner enablement and provided insight into the 42Gears complete product portfolio and enabling organisations to have secure and efficient business operations."
Swapnil Sahoo, Global Partnership and Alliance Manager, 42Gears added, "The  Gear up 2019 Partner Summit provided a great opportunity for us to meet the channel partners of our distributor Bulwark in the Middle East and Africa region, and to discuss how we succeed in selling and implementing 42Gears products in the market. Customers within Bulwark's partner network can now expect a complete and comprehensive value-added proposition on 42Gears UEM suite.
"Our aim, as partners with Bulwark, is to grow our reach across different verticals and market segments through innovative products on UEM suite, AR, VR and IoT 'Things management'. We look forward to a successful year ahead together for this strategic geography."