Michael Mühlenbruch – CSO at DICOTA, tells Anita Joseph how the company's people-first strategy has made it the first choice among clients and the general public.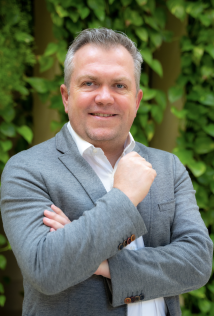 Tell us about DICOTA'S market strategy? How have you managed to consolidate your market presence especially, particularly post pandemic, when everything's changing and market demands are shifting? 
We were on the sunny side when the pandemic started, so when it hit, there was a huge demand and a huge need for all our customers, to get themselves equipped with mobile & home office equipment. On the other hand, the pandemic also showed us our potential weaknesses and forced us to speed up the process, invest in IT infrastructure and get a better grip on our data. You can well imagine, how during the 30 years, you collect so much customer data and information; you sell millions of notebook bags, so behind every notebook bag, there are customers and demands.  So, we started to invest in that segment after the pandemic, to tap into new markets and also develop our existing markets further. For us at DICOTA, the pandemic situation was an opportunity, rather than a challenge.   
Tell us about the Middle East and India markets for DICOTA-how important are they for your overall growth? 
 They're absolutely important in terms of growth, when you just count the population in those markets, we see an extremely fast-moving area and territory, a lot of new industries in that segment and also immense potential. So, that's one of the reasons why within one year, we tripled our sales force. The region even got a dedicated access to our product development. So, it's not only acting on our observations, it's also bringing and executing that on a local level. We strive to understand what our market needs are in that region and how to generate more of a pull going forward. Partnerships also present strong growth prospects in this region, so the team is working on new and existing partnership to strengthen our presence in the region.  
 What is DICOTA's USP that makes it stand out from the rest of competition? 
In principle, it's the people. We're an owner-based company of 65 people who are very dedicated and passionate. We don't have any huge financial investors in our back who put us under pressure, so we are free to take important decisions on a daily basis that favour our customers. Our size makes us extremely agile, so we're super-fast in adapting to the situations, both before and after the pandemic.  This makes us take decisions quickly and execute those decisions at great speed. I think "Time to Market" is a crucial aspect in such a dynamic market environment. 
With digital transformation accelerating post the pandemic and market dynamics constantly changing, have you had to reassess your sales and marketing strategies and approach your operations from a different perspective? 
Yes, of course, we were forced to. We all know that during the pandemic, most of the retail stores and touch points were closed. So, we needed to find ways to reach out to our clients and customers. Coming, historically, from an indirect sales model, always depending on distributors and partners, one needs to redefine one's strategy, and that's exactly what we did.  
Not only that, the market has also changed dramatically. Distributors are becoming retailers and online is becoming a distribution arena, so we figured that we need to focus on the next layer. So, we now focus on addressing our clients, no matter whether they're consumers or B2B clients. Therefore, we put a lot of effort on social media and use new tools and techniques to resonate better with them. We firmly believe that creating additional value brings us another step closer to our clients.  
With regard to our resellers, we initiated six months ago, a loyalty program whereby they get special training, promotions and offers and also a chance to earn points which they can exchange these points for whatever they like. So, at the end of the day, we want to be a friend and partner to the channel and that's exactly what we're focused on, going forward.