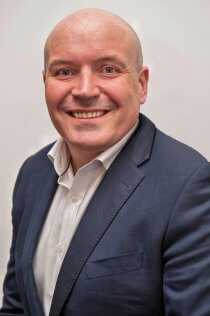 In a detailed tête-à-tête with TahawulTech.com, Grant Taylor, general manager, KSA and Egypt, Exclusive Networks, shares insights on how channel partners can add value to their operations with the distributor's support.
Can you elaborate on the two biggest highlights for Exclusive Networks (EXN) from the KSA market in 2018?
Exclusive Networks' business in the Kingdom of Saudi Arabia grew to new heights in 2018 along with strong overall growth within the country.  We have doubled in size and have moved to a purposed-designed new office, complete with demo facilities and training suite.
A recent research, conducted by Exclusive, discovered that there is about 70 percent of cloud skills gap existing in the market. In an attempt to address this issue, we have launched the Cloud Competency Center. Our objective is to empower the channel and bridge this gap globally through our technical specialists. This initiative has also resulted in the addition of new vendors to our portfolio, most of them being cloud technologies.
Which technologies are seeing a faster adoption in the Kingdom? 
We have seen large scale adoption of hyperconverged technologies. Nutanix, Rubrik, Cloudian and Pure Storage are all coming together to replace the traditional data centre stack and redefine the way end-users treat storage and backup.
What are the growth drivers for your business here?
The first and most important driver is the people in the business. They are the glue that bind the business together and transform a good company into a great one. We have just completed placing the final pieces together for our 2019-2020 growth plans and the future looks great.
Also, the KSA market in general is delivering way ahead of expectations. The companies and entities here are fully aware and embrace technology that delivers security and efficiency.
How can resellers effectively grow their business in KSA? What are the factors to keep in mind? 
Resellers can grow their business in two simple ways.
Add value to the vendor. Be proactive in taking different solutions to market and sell the story, not the individual product. The days of just being a relationship salesman following the vendor around and picking up deals are over.
Sell their portfolio and include services. This can either be their own or ours but either way the end user will get a much more cost-effective delivery as well as the added flexibility that a local partner will provide.
Can you share partner initiatives planned for the rest of this year? 
We are focused on providing our resellers the skills to sell new solutions and to take advantage of the rich margin associated with this. Vendors such as Skybox, Sentinel one, FireEye and others have extremely generous offerings to net new deals. We are holding sales enablement and technical training days free of charge in our new training suite and this is coupled with us delivering end user opportunities via our telemarketing team.
How is EXN enabling and empowering channel partners in this market? 
We regularly conduct workshops for each of our vendors to enable partners on technology. This helps them get certified, retain more margin and ultimately climb the ladder to success.
We take great pride in our business being a partnership. We don't want to do the deal for you or approach your end-users directly; all this does is to create confusion in the channel and becomes a hindrance to long-term partnerships.
For our new and emerging vendors, with no market presence or channel, we conduct the end user demand generation ourselves. As soon as we identify a lead, we immediately engage a partner in the first meeting, so they are in control of the sales cycle.