Mathew Thomas, President at Mitsumi Distribution, tells Anita Joseph, Editor, Reseller Middle East, how the company's strategy of robust partnerships, vendor management and end-to-end services have ensured its continued growth and expansion in the region and beyond.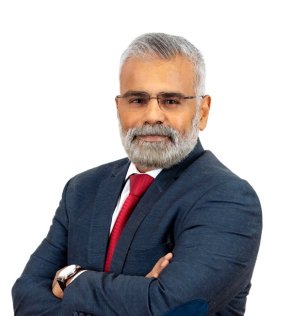 Tell us about Mitsumi's growth and presence in the region. What has the journey been like?
From humble beginnings in Kenya to becoming the region's leading distributor of IT, telecommunications and enterprise solutions, it has been quite a journey. Today, Mitsumi would like to reinforce its presence in the GCC region with promising growth opportunities. We are strengthening our presence in the UAE to address all go-to markets, alongside further regional expansion plans in Qatar, Bahrain and Oman.
Even in the midst of  all the disturbances in the region due to the pandemic, Mitsumi experienced significant growth and increase in share of wallet in the markets we operate. Strong support from the vendors we represent and the solid relationships we enjoy with our partners has been the main catalyst.
We have expanded our distribution portfolio with new relationships and are in discussion with synergetic brands. We are also investing in resources and infrastructure to address opportunities in all GTMs, namely retails and System Integrators.
Our efforts to grow our footprint across Africa and ME will be a continuous journey. This year, we see ourselves being able to transact locally, with in-country stocks in Oman, Bahrain, Kuwait, Qatar and Saudi Arabia in the 2nd half of the year.
On the Africa side, we opened in 7 countries last year and this year we are establishing our presence in French-speaking Africa, with local presence and local warehouses.
What has your strategy been, for growth & differentiation in this highly competitive market?
Mitsumi provides end-to-end supply chain solutions for all IT, telecom, and digital lifestyle solutions with networking, peripherals, PCs and components products from the industry's leading vendors.
Despite the potential impacts of the pandemic, IT investments continue to grow in the region, Gartner Forecasts worldwide IT spending to grow 5.1% in 2022. Work from Home or anywhere suitable will continue to boost sales for IT products.
Our strategy has been to take world class brands to the deepest parts of the region. Making latest IT products available in the country, developing solid relationships with our partners and bringing in financing and local credit for our partners is our key.
We believe in partnership, micro distribution & in-country presence. Mitsumi has invested in having resources and management in over 20 countries, with dedicated legal entity and local logistics capability.
We address mainly transactional channel, retail, SMB and enterprise partners in the regions we represent.
Mitsumi provides end-to-end logistics services with capabilities of import, warehousing, and stock movement across geographies to packing, labelling etc according to the partners requirements. We are investing in a world class warehousing facility with WMS and optimised storage management system. This is mainly to cater to our growth aspirations for the next 5 years.
Tell us about your channel & partnership program. What's unique about it/are there any upgrades?
We launched an exclusive loyalty program for our partners – a maiden partner program initiative – 'Mitsumi Gold Partner Circle'- conceptualised to incentivise and enhance value for all our customers and partners. It's a unique program which is an individual target base.
In addition, we launched the Mitsumi Gold Partner Circle App, which allows our partners to keep track of their monthly rewards, targets, achievements, gold level status and transaction history.
We are taking the digital-first approach and we have plans to launch the B2B E-commerce website for our partners- this will be another milestone in our digital transformation strategy.
What are your plans for 2022?
We have ambitious plans for the forthcoming years, mainly focused on increasing our footprint and in country presence in Africa and the Middle East.
Mitsumi keeps accelerating the pan-African journey, mainly in French speaking countries, SADAC regions and further move into the North African countries by the year end.
In the Middle East, we have established ourselves in retail distribution, having a logistics facility in Dubai. Furthermore, we have established our presence in Oman, Bahrain and Qatar and will soon be present in Kuwait.
In the 2nd half of the year, we will be investing in Saudi Arabia and the Levant region to solidify our presence in the Middle east.
Being lean and nimble-footed, with very strong focus on robust partner relationship and vendor management, is the key to our success. Ensuring product availability, the right level of credit for partners and ease of transactions have ensured our continuous growth.