Anita Joseph caught up with Naim Yazbeck, General Manager, Microsoft UAE, to find out how the company's cutting-edge sustainability solutions are helping organizations meet their sustainability goals and green footprint agenda.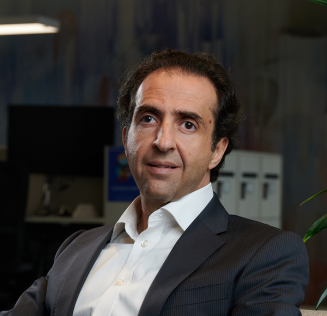 What are Microsoft's latest energy efficient solutions?
Microsoft has several energy solutions that are designed to empower organizations across the UAE and the region to reduce their environmental footprint and create new value in a changing landscape. Microsoft Cloud for Sustainability, for example, is a comprehensive suite of tools and solutions that can help organizations of all sizes to achieve their sustainability goals.
To help meet carbon reduction goals, we launched our Environmental Credit Service which provides a common infrastructure and shared standards for organizations that want high-quality carbon offset credits. The Microsoft Sustainability Manager empowers organisations to monitor and manage their environmental sustainability journey by unifying data intelligence and providing insights to drive and accelerate sustainability progress. In addition, our Emissions Impact Dashboard for Microsoft 365 allows our customers to calculate emissions associated with their use of Microsoft products like Teams, Word, Excel, PowerPoint, Exchange Online, SharePoint Online and OneDrive for Business. It also allows them to calculate emissions savings when they move workloads to the cloud.
This year at ADIPEC 2023 also sees us launching our Azure Data Manager for Energy, an enterprise-grade OSDU™ Data Platform solution that enables the efficient development of software applications for energy companies.
How will these solutions benefit the enterprises in the region to meet their sustainability goals?
Microsoft's solutions are empowering enterprises in the region meet their sustainability goals in a number of different ways from providing actionable insights to reduce carbon emissions to helping innovate new tools that optimize energy use and minimize waste, leading to valuable cost savings.
Microsoft Sustainability Manager, for example, is being utilized to track greenhouse gas emissions, water consumption, and waste production. It can also be used by enterprises to set new sustainability goals and track progress towards those goals. Meanwhile, our Environmental Credit Service is helping to ensure the transparency and integrity of environmental credit markets, while making them more efficient and accessible to enterprises.
Azure Data Manager for Energy, our latest solution, rapidly ingests data from a number of different sources and provides a variety of tools for analyzing the data to generate valuable insights into energy production, consumption, and efficiency. This allows energy companies to quickly develop and deploy new applications, as well as make more informed decisions about their operations. It also empowers energy companies to share and collaborate on energy data, helping them to work more efficiently and effectively with their partners and suppliers.
With COP28 coming up soon, how is Microsoft positioned to play an integral role in this mega event?
Microsoft is well-positioned to play an integral role in COP28 due to our global expertise and strong focus on sustainability and technology innovation. We have been actively collaborating with governments, organizations, and environmental groups globally to advance climate action through the development of highly scalable sustainability solutions.
We attended COP27 in Egypt as the Strategic Technology Partner and Principal Sponsor, throwing our weight behind efforts throughout the region to foment cross-sector and cross-border collaboration on climate issues. Our participation at the upcoming COP28 is aligned with our commitment to showcasing the power of technology in driving and accelerating sustainability.
Our commitment to sustainability is reinforced by our own pledge to be carbon negative by 2030, water positive by 2030, and zero waste by 2030. We look forward to sharing our experience and expertise in energy efficiency and sustainability when the doors to the mega event open in Dubai.
What percentage of CO2 emissions will these energy solutions be able to control, particularly in the UAE or ME markets?
Microsoft's energy solutions have been developed in line with all our company's mission to empower every person and organisation in the region to achieve more. They are highly sophisticated tools that help our customers understand and subsequently reduce their CO2 emissions as they see fit. Therefore, the exact percentage of CO2 emissions that organisations will be able to control in the region depends on a number of factors such as the scale of adoption and the development of new energy solutions by local and regional organisations.
As part of our mission to empower every person and every organization on the planet to achieve more, we are partnering with several organizations in the UAE to help them advance their zero carbon initiatives. For example, we are implementing the latest digital twin technologies and smart building management solutions in DEWA's new headquarters, which will be the largest government Net Zero Energy Building with net zero carbon emissions in the world. Similarly, we collaborated with Johnson Controls on creating a number of innovative AI solutions that are driving sustainability and efficiency at BEEAH Group's new HQ – The Office of the Future in Sharjah.
What are Microsoft's plans to encourage sustainability in the next few months and the coming year?
Our plan is to continue to innovate with our customers and partners around the world, offering our learnings, resources, and technology – including the power of data and AI – to help them set and achieve their own climate goals. We are also accelerating progress towards a more sustainable future by reducing our own environmental footprint, advancing research, and advocating for policies that benefit the environment.
Ultimately, we will only be able to make a positive impact in the race against climate change if we manage to scale technologies to a point where organizations of all sizes and every industry can benefit from the tools and insights needed to help them create a more sustainable future.