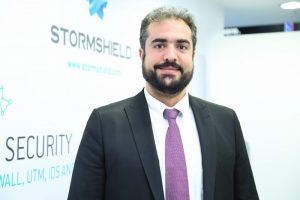 At GITEX 2017, the European digital infrastructure security firm Stormshield is focusing on increasing its brand awareness and highlighting the close relationship it shares with its regional value-added distributor, Scope Middle East. The distributor provides advanced network performance and security solutions in the Middle East and North Africa (MEA) region.
Hakam Kayed, sales director, Middle East, Africa and Turkey, StormShield, says, "Scope is our major distributor for the MEA region. We have selected Scope, as they are a specialised distributor focused on security. Our product offering complements their robust portfolio of solutions perfectly."
Operating in the region for more than a decade, the vendor boasts security solutions across network, endpoint and data pillars.
Kayed adds that the distributor is helping the firm to develop the market as well as enable channel partners on ground and in multiple territories within the MEA region.
"We are a 100 percent channel company. We follow a two-tier model, which means we only go through distributors and resellers in multiple countries."
He further adds that the company is also introducing a new industrial security solution that is specialised to secure SCADA environments for critical networking infrastructures.
"Scope has helped us in securing some great opportunities in the region, we have already installed security products for Stormshield within the industrial security arena."
Going forward, we will see the firm focusing more on industrial security offerings.
"We are one of the first vendors to introduce SCADA protection. We will focus more on pay-as-you-go models, virtualised environments and security or firewall-as-a-service offerings next year. Along with GCC countries, we will also focus on Turkey and Egypt markets in 2018," Kayed says.