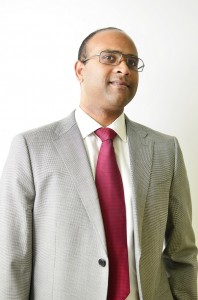 It is rare to meet a person in any industry, let alone IT, to reach such a corporate level at an age as young as Terence Sathyanarayan.
As somebody who admits to "staying under the radar" for much of his career, it was only once he led the Middle East's first private cloud implementation last year that he was no longer able to escape the limelight.
Despite being born in India, Sathyanarayan considers the UAE as home. His grandfather went to the UAE from Aden in 1954 and then his mother in 1980. After his father left when he was just two years old, his mother was left to be the breadwinner for the family. That meant taking a job at Abu Dhabi National Oil Company (ADNOC), leaving her son at boarding school in Bangalore, India, aged four.
However, a couple years later, Terence was able to join his mother in the UAE capital, beginning a 30-year love affair with the region.
"Growing up in Abu Dhabi was quiet but inspirational. It has been one of my key advantages because I understand the UAE culture, love the people and blend into the community," Sathyanarayan says.
"I have learnt over the years how to see things from other perspectives. An MBA degree from Harvard may not give you success in the Middle East if you understand little about the Arab culture."
After completing his CBSE aged 16 in Abu Dhabi, Sathyanarayan headed back to India, where he completed a computer science degree followed by a degree in Aircraft maintenance engineering with the civil Indian Air Force division in Bangalore.
"It was tough going back to Bangalore because the education was quite advanced in those years compared to the Middle East, so it was a challenge catching up to those high standards," Sathyanarayan says. "The dynamic, fast-paced life was a culture shock for me, but I learnt to adapt quickly and enjoyed my six years at university."
It wasn't just university which he loved about India. It was also during this time that he discovered his love for speed. However, it was a near-death experience at 21 that put life into perspective for Sathyanarayan and made him realise where he wanted to be.
"I've had a lot of bikes and bikes have had a lot of me," he says. "I was in a very bad accident. I cracked my skull and had part of my brain scraped off. I had stopped breathing and was jolted back to life by CPR. After that, I actually started thinking about home and mum and decided to get my act together."
Specialising on the Boeing 737, Sathyanarayan worked with HAL (Hindustan Aeronautics Limited) and Jet Airways as an aircraft engineer before taking a job back in Abu Dhabi as an aircraft mechanic for Abu Dhabi Aviation's Police Search and Rescue Helicopter wing, which is the primary aerial recovery team for the Civil Defence and oil field activities in Abu Dhabi. It was aviation, not IT, that was his real passion.
In spite of this, Sathyanarayan realised the emerging field of aircraft engineering was just developing in the region, and pursuing such a career would be bleak.
Instead, he found himself accepting a projects manager job with Japanese company Newlong Machine Works, based out of Jebel Ali Free Zone.
"The Japanese take technology coupled with robotic automation to another extreme and it was during this seven-year honeymoon period that I discovered something as challenging as aircraft engineering – information technology, Japanese-style.
"I travelled 70 percent of the year, implementing large projects all over East Africa, the Far East, Europe and the Subcontinent for an extended time. Being exposed to different cultures and languages contributed towards me being able to adapt quickly and contextualise cultural barriers when dealing with personalities."
One thing engineering does not teach is business acumen, but Sathyanarayan's time at Newlong had a major bearing on his approach to both technology and business.
Seeing himself as a "business professional", rather than a "technology professional", gives him an edge over others in the industry, he says, because he understands what he calls the "critical path in a business process" from start to finish.
"I would attribute that to my work at the Japanese company because there were no different positions handling separate business streams. The Japanese think very differently – you do everything. For seven years, it was design to draft, engineer to build, ship to invoice, implement to commission and financial presentation to collections – the entire lifecycle."
After his work with the Japanese company, Sathyanarayan and his wife decided to migrate to Toronto, Canada. This commenced Sathyanarayan's business relationship and friendship with Carl Cagliarini, who he refers to as one of the most respected commercial wireless technologists in the IT industry.
With the concept of laser-based optical communication, they went into partnership with Sathyanarayan's family and set up a Canadian technology business. The company – named Rhema Communications – specialised in designing sensitive networking encapsulated with unbreakable solutions for government and defence organisations.
With the UAE still being home for Sathyanarayan, he decided to set up a branch in Dubai Airport Freezone, which allowed him to travel between the two locations throughout the year.
But his passion for aviation was still alive. Following two years running the company, he left it with his father-in-law to become Group ICT Manager for Emirates Airlines' security arm, Transguard Group Security.
"Emirates started a highly classified project involving one of Rhema's engineered solutions and they wanted me to propel it forward. So I came on board to implement it and roll it out. I started getting very deep into the 10 domains of IT security there and realised there is a lot more to technology in aviation."
Come 2008, Sathyanarayan was given the opportunity to become a fully fledged CIO at the Khalifa Juma Al Nabooda Group of Companies. While giving him a flavour of working across many industries, it also gave him the job of handling the technology for the royal family in the region, working on many palace projects.
It also gave him the opportunity to build something from scratch, which is the kind of project he often finds himself gravitating towards.
"I always find myself at ground zero – when there is nothing in place other than the vision of a CEO. I embrace the opportunity to align technology with their vision and take organisations to the next level," he says.
Therefore, when the opportunity came up to lead the implementation of a first-of-its-kind cloud project at Emcor Facilities Services (EFS), it didn't take long for Sathyanarayan to say yes.
"They came along in 2011 and the Group Managing Director's vision to transform the business in rapid time and lean budget couldn't be achievable without diving into the concept of grid computing and cloud-based architecture. So I embarked as CTO on the Middle East's first private cloud project that was supposed to take about three years. But we implemented it in just under six months."
It is easy to see that Sathyanarayan's love for speed spreads beyond cars and motorcycles, and into the thick of his life and career.
"I've got to keep moving. That's what drives me – I need opportunities to be constantly creative. You plan it, you plot it, you achieve it," he says.
It's that drive that has led Sathyanarayan to where he is now, replicating principles and experiences with his past companies but this time on a much grander scale at Drake & Scull PJSC, the largest engineering, procurement and construction management company in the Middle East.
"The EFS project was big enough – it's a huge group of about 16 companies – but the Drake & Scull project is about seven times larger and more complex.
"Drake & Scull PJSC's business transformation is by far the most prestigious and challenging assignment I have encountered."