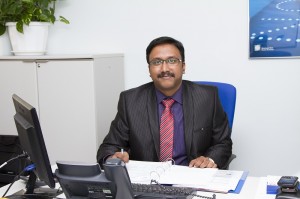 In an industry that demands the latest solutions, constant upgrades and best-of-breed products, it's unlikely you'll find many companies that have shown a lasting, unquestioned loyalty to a specific vendor. Mednet is one of those companies. But in an ever more dangerous virtual landscape, its vendor loyalty is being put to the test.
It's been five years since the implementation of ESET's NOD32 Antivirus Business Edition solution into Mednet's infrastructure, yet the managed care service provider hasn't seen one day go by where the product hasn't fulfilled each and every demand it's faced since it was originally acquired half a decade ago.
Mednet is a well known and well trusted healthcare solutions company dedicated to the United Arab Emirates. The sense of safety and expertise which is demanded from the customers day in, day out, reflects on the IT department, which in turn faces its own daily demands to keep the company safe and secure.
IT Manager Einstein Johnson Rozario has run a three-person team since 2006, controlling the company's infrastructure. It was this team which set about improving the overall security of the company five years ago, when Rozario deemed the previous antivirus software a liability moving forward.
"The old antivirus and security software used to pretty much half our system in terms of speed and performance," recalls Rozario.
"We needed something new, a new system. So we set about looking at reviews online and listening to consultants discussing certain products, and that's when we stumbled upon ESET."
Rozario claims that the support towards the ESET product was overwhelming and so Mednet decided to give the solution a trial. The trial was so successful, he says, that they purchased the full product almost immediately.
The main objective that the product needed to fulfil for Rozario's team was that it was, as he describes it, "light". He says that the product needed to slip into the company's infrastructure without causing any complications or downtime. On top of this, it needed to be simple and user-friendly while allowing all other processes to run without slowing the system, one of the key issues with the previous product.
"If we tried to run a client application, it would almost totally stop our system – it was just so slow. The engine was old and it was difficult. This product didn't slow down our system at all. A quick and solid system was vital for us."
"There was one particular site trying to infiltrate our network. The new product caught it, deleted it, it was gone. The previous product didn't identify it. This is just one example of why we needed to make the change," Rozario says.
Laying the ground work
Adding to the already impressive pros list, the initial stages of implementation were so simple that Rozario was able to do them internally. Once all that could be completed in-house had been, Mednet looked to ESET for expert assistance in the completion of the project and basic initial support.
"When ESET finally had to step in, everything ran so smoothly. We were pleased to be able to take care of the initial implementation, but once ESET arrived, they really took care of us."
Overall, the implementation and integration took next to no time at all. Within a week, the product was up and running and ESET had finalised the central system, leaving Mednet to continue business as usual.
"The product is working superbly, not a day has gone by that it hasn't fulfilled its requirements," claims Rozario.
However, in an industry where technology evolves as quickly as threats, Mednet need to keep a constant eye on the IT landscape and ensure it's safe and secure as we move into a very virtual platform.
"Companies constantly offer us new products, to which we respond with a defiant no," Rozario says. "In the future, yes, we may have to re-evaluate our security, but that's not something we want to think about now, and we certainly don't want to consider changing from an ESET product."
Loyal customers
The IT security market is a large one, and Mednet certainly wasn't short of choice when it decided to implement ESET's product. However, ESET was chosen with confidence and Mednet claims that only loyal customers know why.
"ESET isn't the biggest security company; there are many large names in that field. However, if you've been with ESET and actually witnessed what its product can do for you, you'd say no to any other offer. It's one of those companies where you have to actually witness the strength of the portfolio before being able to really understand what it's about. That's how we feel and that's why we refuse to change our provider."
The security of the IT department has never been more important, nor has the department itself. The shift in how dominant information technology has become has laid a large emphasis on Rozario's team and that means a few things.
"IT has become a great business enabler. Therefore, the pressure and responsibility on us has increased," he says.
"We now have the right to endorse or recommend any new technology coming in. That means larger budgets and bigger decisions than ever before for us. It also means far more work."
In 2013, the projects don't stop for Mednet – it will be upgrading its core business applications as well as beginning to roll out its cloud solutions. In any case, Rozario knows that the time may be on the horizon when Mednet must take a good long look at its ageing ESET product and make the decision on whether to update and upgrade to something newer and stronger, or to carry on as normal with its trusted protection as it moves further and further into the ever evolving IT environment.