Hussam Al Nowais' cultured background befits a media industry pro. The twofour54 IT director's upbringing in Japan and Egypt has prepped him well for a career that now sees him delivering IT services to some of the world's top production companies.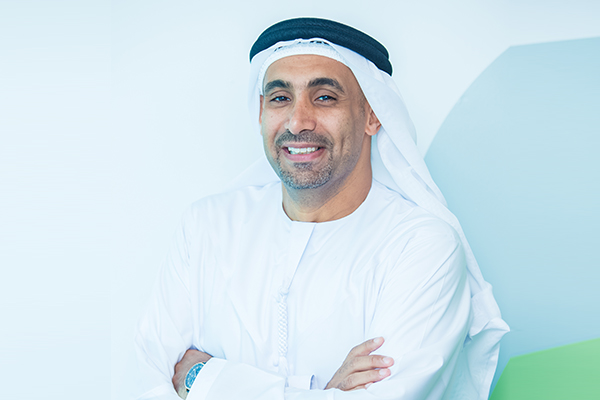 It was a moment he had always dreamed of. Since he was a small child, figurines had adorned his bookshelf, and still do – with his wife's permission. At last, Hussam Al Nowais was toe to toe with the stormtroopers. "I was just disappointed that Yoda couldn't make it," he quips. Al Nowais names last year's Middle Eastern premiere of Star Wars: The Force Awakens as his number one night of 2015. Delivering the showpiece of the evening – the film itself – demanded first-class IT infrastructure and services, provided by IT director Al Nowais and his employers, twofour54. But more on that later.
Born in Abu Dhabi, Al Nowais spent long periods of his childhood living abroad, his father working as a UAE foreign ambassador. "I attended kindergarten in Japan, and was schooled in Egypt," he says. "I then studied in the US, before returning to the UAE. It was an absolute privilege to have grown up across a range of different cultures. It helps you to think outside of your traditional bubble, and instills respect for the way others live and work."
Al Nowais remains in awe of Japan. "I'll always have a soft spot for it," he says. "The country is incredibly modern, but has always stuck to its culture. It's highly systematic, with very hard-working people."
Initially enamoured with the sciences, Al Nowais began a biology undergraduate course, before deciding to change paths and follow his burgeoning passion for technology. He undertook a degree in computer network technology at Higher Colleges of Technology in Abu Dhabi, and his major would become a recurrent interest throughout his career. "I'd initially wanted to be a dentist," he says. "Networking just grabbed me, though. Everything in life is networked, electronic or otherwise. Humans can't survive on our own; we are always networked. The more networked you are, the more advanced you are."
While studying, Al Nowais joined Abu Dhabi's General Civil Aviation Authority as an IT officer, where a diverse and challenging role would prepare him well for the coming years. "I was fortunate to have a lot of responsibility and gain a lot of experience there," he says. "I worked across networks, applications, Web design, security, you name it. A lot of people do the same job for 10 or 15 years but I was privileged to have that variety at that point in my career."
Next up for Al Nowais was a move to Emirates Centre for Strategic Studies and Research (ECSSR) in 2004, this time as a network engineer. He gained fantastic project management experience at the company, overseeing the rebuild of IT infrastructure including a security refresh and a new data centre build when ECSSR moved offices. "It was a rare opportunity for me," he says. "I was also involved in the selection of technology, which added another string to my bow in terms of developing my network skills."
The "other side" beckoned for Al Nowais, and in 2007 he joined Injazat Data Systems as a client delivery manager. In his role, he was responsible for the delivery of infrastructure projects for a company client that operated in environmental initiatives. However, he found working as a vendor challenging. "It was a completely different – but important – role," he says. "I certainly enjoyed learning what it means to be a service provider, but I prefer being the client, where I can be in control of projects and strategy. It was certainly interesting to learn about balancing the priorities of earning revenue for your employer, but looking after what's best for your client."
Al Nowais caught the attention of Masdar, who hired him as IT manager in 2009. The company's work continues to inspire him. "I think Masdar's work is key for what the Abu Dhabi Government is trying to achieve," he says. "Programmes like Solar Impulse 2 are making a difference and I hope they can continue."
In 2010, Al Nowais joined MZA, twofour54 as head of IT infrastructure, beginning a tenure that befits his open-minded nature. "I'm extremely fond of twofour54," Al Nowais says. "I believe in the benefits of long-term partnerships, in business and technology. I'm delighted to have established that in terms of my relationship with the company, and with our technology partners. If you are able to negotiate the right deals from the off it can set the tone for beneficial relationships."
Shortly after joining, Al Nowais and the IT team set about establishing the company's disaster recovery and business continuity processes. "They're such important issues in the media industry," he says. "In order to provide the best possible services to our partners, we need a robust infrastructure with redundancy layers for minimal downtime." Al Nowais has overseen the establishment of dual ISP connectivity with providers Etisalat and du. "We're able to switch between them if there are any issues," he says. "We've had minimal downtime over the last five years as a result." By 2011, Al Nowais' progressive work earned him a promotion to the role of IT director.
One of the key mandates of twofour54's IT department is the delivery of a range of IT services to media companies operating within the free zone. "It's our job to provide IT infrastructure-as-a-service to them, across offices and filming locations," Al Nowais says. This includes world-renowned clients.
An avid Star Wars fan since his youth, Al Nowais was elated to learn that Disney – who acquired Lucasfilm in 2012 – had decided to shoot a host of scenes for Star Wars: The Force Awakens in Abu Dhabi, with the film's 600-strong production crew using a site under twofour54's authority in April 2014 requesting 24/7 IT support. Disney's arrival coincided with that of Universal pictures, who would be filming scenes for Fast & Furious 7, and were also using twofour54 support services.
Their presence provided an opportunity for twofour54's IT to shine. The Star Wars production team were on-site "three months" before filming started, and were in need of Al Nowais' expertise from the get-go. "We were their IT department," he says. "We provided separate security, applications and infrastructures-as-a-service across both studios."
Production was successfully completed without any hitches, allowing Al Nowais to draw extra satisfaction on the film's opening night, where he was a guest. He was even lucky enough to meet Hollywood star Richard Dreyfuss. "On screen you think these guys are eternal, until you meet them up close," he jokes.
Al Nowais attributes those closest to him as his biggest inspiration. "My children never cease to amaze me," he says. "I actually think they're smarter than adults because they don't understand boundaries. They are uninhibited and naturally think outside the box."
He goes on to add that his father set a shining example in delivering conscientious and insightful work. "Watching him operate as a diplomat was a learning process in itself," he says. "The most important lesson he taught me was to never say 'I don't know'. That really is fantastic advice. 'Let me get back to you' or 'Let me find out' are perfectly acceptable responses, but it's important to have a hunger for knowledge that underpins what you do." This philosophy has pushed Al Nowais to question whether such a thing as peak performance even exists. "I don't believe there's such a thing as your best," he says. "You can always find a better way of doing things."