Khwaja Saifuddin, Senior Sales Director, Middle East at Western Digital, tells Anita Joseph Editor, Security Middle East in an exclusive interview, how the company has the customer at the centre of it all-right from product design to its eventual use and benefits.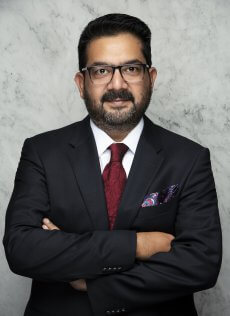 Tell us about Western Digital's growth as a company and the science behind its products.
Western Digital as a company was formed in April 1973 in the US. We started by making controller cards. AT that time, the only thing that could help a human being compute was a calculator. So that's how we started our journey in the IT-compute space. Slowly and steadily, we built up expertise in making storage devices.
Our storage devices are not centred around one specific application. That was our mantra-we're not going to offer just a 'vanilla' flavour and let the people decide. Instead, we sliced the needs of the end user into how he wants to use the application-whether it's in his mobile phone, laptop, PC, or in other ways where data is getting created. Then we identified the verticals and focused and designed the products as per the verticals. For example, around security and surveillance, our Purple products are designed and manufactured for 24/7, 365-days uptime, because we know there are no downtimes in a camera vs a desktop product where you need everything but for a maximum use of around 8-9 hours vs cards which go into our mobiles, which is almost 24/7 usage. So, as a user, you want to click a button and capture that moment, because if you delay even by a few seconds, you lose that moment. These are the simple user experiences which we take back and then design a product.
So, for us, it's not just about selling a product-it's about creating an experience and making sure that the objective is met, for which people are putting their trust in Western Digital.
 What were the products & solutions you showcased at the recently-concluded Intersec 2022?
At Intersec, Western Digital highlighted the importance of security and smart video needs with flexible infrastructure and data solutions to address applications from in-camera recording to multi-stream AI and offer more choice.  In addition, Western Digital also exhibited its WD Purple product range, engineered specifically for smart video and surveillance and includes three product solutions – WD Purple Pro HDD, WD Purple HDD and WD Purple microSD card. Offering improved efficiency for overall video playback, these devices bring reliable, surveillance-class storage that has been tested for compatibility in a wide range of smart video.
Moreover, the company also showcased its Ultrastar series of high capacity hard drives to support cloud service providers, telcos and system integrators. The Ultrastar DC HC560, with the first implementation of OptiNAND technology's capacity-enabling features, delivers an unbeaten 20TB1 capacity in a nine-disk platform (2.2TB/platter) with CMR recording format.
Here's the complete range of products we showcased at Intersec:
Designed for advanced AI-enabled recorders, video analytics servers and deep learning solutions requiring additional capacity, performance and workload capability.
Designed specifically for the mainstream security camera market. The card delivers a cost-effective combination of ultra-endurance, high performance, and wide capacity range up to 1TB.
The Ultrastar DC HC560 offers huge capacity to the market. It meets modern data center reliability requirements with 2.5M MTBF (projected) and a 5-year limited warranty. It offers security and encryption options to help protect data from unauthorised use, including SED models.
A mainstream NVMe SSD targeting broad deployment as boot, caching, or primary storage in data centre IT and cloud environments.
Designed for high density and flexibility, the hybrid storage platform is a key element of next-generation disaggregated storage and Software-Defined Storage (SDS) systems.
The Ultrastar Data102 provides up to 2PB of raw storage in 4U using 20TB SMR HDDs in a compact and efficient form factor. The extremely dense form factor provides the flexibility to specify the HDD and SSD combinations for balancing capacity, performance, and cost.
What were the main learnings of 2021 and plans for the coming year?
If we look back at the times of physical distancing and social solidarity, as I'd say, what brought us all together was data. So we identified that data is one key bond which can keep us connected no matter where they are. Data isn't affected by travel curbs or restrictions of any sort-so that brought discussions on data consumption, sharing and accessing, whereby every house was transformed into an office, a classroom, or both, as the case may be. This created a huge uptake-not only in terms of demand, but also an understanding of the importance of data. It served to reiterate the fact that data is not something you can take for granted.
We also invested a lot in educating people about backing up data, identifying the right device for the right use, the various use cases, etc. So this was the major trend for 2020-21 and we have similar plans for 2022 as well. We will keep on enriching our end users about data as well as our offerings-not only our products, but also their features and benefits. The aim is to take away a 'capacity' or a 'price' discussion and focus instead on the features and benefits if our products and why they must be used. For instance, why an extreme card should be used for a digital camera vs an extreme pro for a drone, or why Purple should be used for surveillance, and so on.