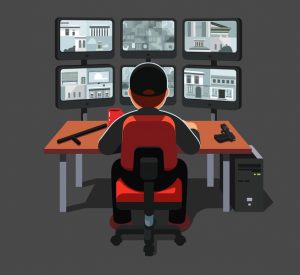 Security experts discuss how partners can optimise the opportunities in the video surveillance market, which, as per reports, is expected to have a tremendous growth by 2022.
The video surveillance market has seen an unprecedented growth over the last few years as several high-profile and damaging security breaches and threats have impacted the Middle East business environment. Globally, the market was valued at $30.37 billion in 2016 and is projected to reach $75.64 billion by 2022, at a CAGR of 15.4 percent between 2017 and 2022, as per a MarketsandMarkets report.
Regionally, video surveillance has become a mandatory requirement in many commercial sectors, which has further enabled its growth. Other factors driving security and surveillance products include the increase of small and medium businesses (SMBs) opting for these systems and the constant demand from segments such as retail.  Also, as the market moves towards a more connected future, it is hard to ignore the critical role cameras will play.
"End-users are thinking future, long-term, scalability and analytics, while depending on their solutions to get apt results," says Marwan Khoury, regional marketing manager, Axis Communications. "We expect 2017 to be the year when new camera capabilities are combined with real-time analytics to address several security challenges, including facial recognition, forensic analysis and perimeter protection. We see high demand in thermal technology as well to compliment traditional video surveillance solutions."
Sanjay Ahuja, vice president, Middle East and Africa, for AGC Networks, too agrees that video surveillance will be the preferred choice for enterprises, when it comes to security options.
He says, "Technology trends such as cloud and Internet of Things are allowing for facility managers and IT admins to access live footage via the cloud – making video surveillance the top choice."
As the number of breaches in the Middle East has risen over the recent years, regional governments have been increasing their security budgets. This further expands the opportunities for channel players. As the demand is high, partners have to first understand their customers' requirements in order to maximise the prospects. They need to not only understand the requirements but also make it a point to thoroughly know their customers' businesses. This will allow them to recommend apt solution offerings.
Sakkeer Hussain, director, Sales and Marketing, D-Link Middle East and Africa, believes that although the channel partners are driving this growth in the Middle East market, there is still a lot to be desired for.
He says, "To be successful, an approach to innovation is required, where the channel ecosystem needs to be empowered with solutions to build value-added offerings, which can be taken to market for customers in the IP video surveillance market."
According to Khoury too, the market is demanding a higher level of value-added solutions. He adds, "Education and positioning themselves as experts beyond their traditional competencies will help partners to emerge as profitable players."
Understanding customer business is one important element while the other includes being on top of market developments so that partners are in a position to advise end-users how they can tackle future challenges. For example, resellers need to spend time and resources in learning about the latest happenings within the video surveillance market. They need to know why high-definition cameras can be better, when a business needs to implement video analytics or the advantages of using cloud-based services for centralised data.
Nick Jheng, Sales Account Manager, Synology, says, "In regards to surveillance applications, Big Data and deep learning will be two key areas for partners in the development of an intelligent video system."
Today Big Data provides opportunities beyond security to monitor and analyse businesses to learn about customer behaviour and be able to manage risk and optimise operations.
"It is important for partners to realise this as Big Data has become critical in supporting modern applications for video surveillance. Meanwhile, deep learning is also playing a vital role in increasing the demand for intelligent video analytics as more industries realise the benefits for its application."
According to Jheng, deep learning is an area where partners can see significant investment and research.
Firas Jadalla, regional director, Middle East and Africa, Genetec, says, "Our channel partners should be able to align themselves with the changing dynamics of the industry.
"The primary requirement for partners entering the surveillance business is to understand that it shouldn't be just about selling products but also about providing a comprehensive solution. In addition to the sales set up, partners need to have resources for implementation and support."
Agreeing, Ahuja adds that partners need to capitalise on the fact that with the advent of cloud access, video surveillance isn't just limited to on-site infrastructure.
He says, "Understanding the customer's need for surveillance, partners need to put together complementing solutions. Services will play a significant role from the partner community as customers would need sustained support in their current and future growth plans."
According to Shailendra Rughwani, director, Nirsun Technology, besides keeping pace with technology, partners should invest in honing better product and project management skills.
He says, "The market requires advanced as well as cost-effective solutions. Partners should focus on developing these skills and ensure they choose the right supplier for right markets with the right prices."
Over the coming years, we can expect further innovation in the video surveillance market and this means even more doors will open to partners. However, resellers must ensure to be in sync with market evolutions and educate themselves in the nitty gritty of the technology itself, to be successful in the long-term. Partners who can build their business around solutions and value-add will emerge and sustain as profitable players.