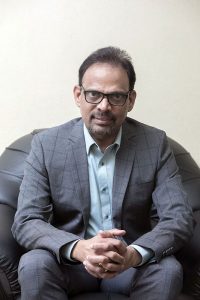 UAE-based distributor Bulwark's MD Jose Thomas Menacherry discusses regional security demands and how the firm is in a strong position to cater to it.
The dynamism of the security space is compelling organisations to be innovative and unique in their operations. As enterprises' demand for connected and smart technologies gain prominence, the security associated with these solutions also need to be stronger and incorporated right at the beginning. Regional value-added distributor, Bulwark, with a dedicated focus in the security space over the last two decades, is in a strong position to cater to these demands.
Over the last year, we have seen the distributor streamline its vendor partnerships between its two entities – Bulwark Technologies as a VAD for delivering high-end security solutions and Bulwark Distribution, which is a freezone company, dealing with fast-moving security products.
The firm's managing director Jose Thomas Menacherry says, "We have reinforced our sales and technical teams with more personnel from security and distribution domains and with more focus on other GCC and Middle East countries. We have also signed up with major resellers and systems integration companies focused on security in the region during the last year."
Besides growing its regional presence within the Middle East, it has also commenced its India operations, headquartered out of Bangalore. The distributor has onboarded several niche security vendors such as Arcon, Lastline, Mimecast, Radware and Teramind.
"All of these developments have strengthened our security offering further to address the security concerns of regional customers."
According to Menacherry, there are several factors for driving the security demand within the regional market.
He says, "We see many interactions happening with the corporate and enterprise level customers for securing their data and network. Some of the compliance requirements also enforce customers to implement adequate auditing and reporting of critical assets and user activities."
He adds that post the recent global and regional security breaches and threats, customers are becoming increasingly more aware about having robust security measures by deploying effective solutions in place.
The distributor works closely with channel partners to deliver its security promise to customers. It conducts regular channel enablement initiatives throughout the year.
"We believe that our success and growth are based on the success of our channel partners positioning our solutions with proper expertise to customers," explains Menacherry.
The regional channel market has its fair share of challenges. With fierce competition and profitability issues, only focused players can stand out and make a noteworthy mark. Admitting that the distributor too experiences the heat of market challenges, it tries to minimise the effects by adopting timely measures.
He says, "The solution we carry offer a unique value proposition to the customers and partners. With our focus on ROI, we have been able to effectively demonstrate a pragmatic approach that clients need to adopt while choosing the right solution."
Bulwark's success factor also includes developing and supporting a set of trusted partners while staying laser-focused on its offerings.
"We have remained focused in the security space rather than putting our efforts outside our areas of expertise. This will also help to avoid unwanted competition and stretching our resources unnecessarily," Menacherry says.
The biggest challenge the distributor faces is guiding customers and partners to the "optimal solution" suiting customer's environment and addressing specific concerns, considering the surfeit of solutions available in the market today.
He says, "Enabling partners and providing the right tools would help to bring in better returns."
On enabling partners, the distributor carries out several initiatives from conducting product specific roadshows in coordination with vendors, generating potential leads to sales and technical enablement sessions and assisting them in doing PoCs and implementation services.
"We prefer partners to be fairly self-sufficient on the solution offerings to be able to manage the opportunity end-to-end. This is what would see a sustainability in their interest and help them translate their differentiation with their clients."
Menacherry believes "differentiation, speed of response and customer-centric approach to solution selling" will help its partners to make the transition to the digital environment.
Over the course of 2018, we will see the security-focused value-added distributor continuing its growth path within the region and adding more strategic partners. It will increase its focus on security in the cloud, mobility and IoT space. According to the MD, the firm will also strengthen its team with onsite presence in some of the countries it operates in at present.
He says, "Being a security focused company, we have been regularly scanning the technology space for latest products addressing the new threats."
In the coming years, the MD expects VADs to take on more responsible roles when it comes to product specific activities during project execution.
"Vendors involve the VAD for region-wise marketing and sales activities, timely revenue realisation and also for support services. We would continue to see more partners coming into the regional channel space as the barriers to entry in the cloud space is diminishing."