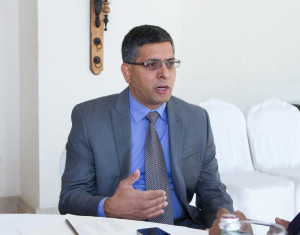 There is an increasing emphasis on service-aligned approach to IT operations so that CIOs can deliver on the promise of partnering with business. Ashish Kuthiala, Chief Marketing Officer, Business Services Management Software, HP, talks about the value of a services aligned view of IT.
Business service management usually means different things to different people. How do you define it?
The way I look at it, there are two parts to the answer. One is, businesses today survive by providing services, whether externally or internally. Every organization essentially today has become a software organization. If you think about it, it's IT infrastructure and software that is delivering the business services to your customer. You need it to keep your business up and running, and push towards a competitive edge. So BSM at the very basic sense makes sure that your IT infrastructure is always up and running to provide these business services.
For example, if you look at some of the iconic businesses such as Blockbuster and Borders, they all have gone out of business. They were replaces by the likes of Netflix and Amazon. How did they change the model? It's through the Web. It's an app economy and competition is just a click away. BSM in a sense provides everything from the app experience, from both user and infrastructure perspective and every underneath it, right down to the memory and hard disk.
The second part of the answer is keeping the lights on and running. When I was here in Dubai twenty years ago, the skyline looked different. Today I am standing in the same place and I can't relate to it because there is so much going on. IT is a bit like that because you have a lot of stuff that is new and you have to manage it. There is a lot of data being generated and IT uses structured, sequel data to driver business decisions. But that is not sufficient. Around 90 percent of the other information in the eco-system is not being taken advantage of. What we are trying to provide is connected intelligence, marrying unstructured data with structured so that you can start to make intelligent business decisions.
How do you actually take a services-aligned approach to IT operations and build a services catalogue?
We have some underlying technologies that unique to HP and I don't know if you are aware of our runtime service model. We have an engine- I call it the brain of the IT operations – that knows what is connected to what. If you take a simple services like email, it has got its apps such as Microsoft Exchange, clustering, servers, routers, disc drives, all connecting to make a business service. Typically the challenge for the customer is not knowing what makes up a business service. We help you build a service map quickly using our automated discovery engine so that you can manage services versus managing network nodes or servers.
So it lets you monitor the health of your business services in real time?
Yes absolutely and I call it the time machine for IT operations. Not only do we allow you to manage it in real time, we also give you the capability to have hindsight; the ability to know what happened in the past so if something went wrong you can quickly analyse it and fix it. In addition, we also have a product that looks into the future and predict what might go wrong by correlating all these millions of events in real time.
Can you manage non-HP environments?
We are absolutely not biased towards HP software in any IT environment. The value we provide over any other vendor is that we will manage any kind of heterogeneous environment. Customers make investments worth millions of dollars in their IT systems and you can't just go in there and say this will work only with our software.