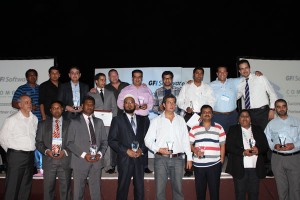 As a relatively new entrant in the Middle Eastern market, GFI Software could be forgiven for not knowing its audience. But at its second Middle East Partner Conference, GFI and sole distributor Comguard showed that the vendor had made a happy home out of the region.
When Comguard became the Middle East's sole distributor for GFI Software in 2011, by its own admission, it had a tough time convincing some partners that GFI was a vendor worth taking notice of.
The problem was that GFI positions its solutions towards the SMB market. And, at the time at least, many partners weren't interested in taking on products that wouldn't result in large, enterprise-class sales.
"The moment anyone mentioned SMBs, even a small company would step back. They'd say, 'I don't want the solution, and it's not going to be right for me,'" said Nandini Sapru, Channel Sales Manager, Comguard, at the conference, held at the Hilton Resort and Spa, in Ras Al Khaimah, UAE.
Both GFI and Comguard must have felt pretty vindicated, then, when Sapru began reeling out GFI sales numbers. In 2012, the distributor saw a 21-percent increase in sales of GFI products in the Middle East. This included a 19-percent increase in new business sales, making it the software vendor's best year in the Middle East so far.
Sapru then broke down the Middle Eastern sales figures for 2012 into country-specific numbers. She said that the UAE saw a 104-percent increase in GFI sales, while Saudi Arabia's sales increased by 56 percent. Meanwhile, Bahrain posted a 43-percent increase in sales.
Considering the growth of the SMB market in recent years, it's little wonder why a vendor specifically targeting it is seeing good sales. Estimates say that there are around 10 million SMBs in the Middle East, and their total IT spend is around $192.9 billion. Gartner expects that number to reach $223 billion by 2016.
"We work in the zero-to-1,000 space, and we see that growing," said Simon Azzopardi, Vice President, DACH and Emerging Markets, GFI. "The companies are regenerating, and the Middle East is home to many of them."
However, having seen the growth numbers, some partners were anxious to find out if they can actually position GFI's products towards larger customers. Comguard and GFI responded in the affirmative; large customers such as Abu Dhabi Islamic Bank, Zayed University, National Bank of Bahrain, Abu Dhabi Municipality and du have all implemented GFI solutions over the past year.
Sapru said that, though 95 percent of GFI's customers worldwide are part of the SMB market, the distributor was beginning to target larger enterprises with GFI products.
"The average selling price (ASP) per order is increasing," she said. "If you're seeing a growth of ASP, it generally means you're moving out of the SMB space. And the percentage increase for ASP is something we want to maintain."
Which products would be best for this? Well, GFI ran through the solutions that it felt were performing best in the region. WebMonitor and MailArchiver had really done well over the past 12 months in the Middle East, though it wanted to push other products, too.
GFI put particular emphasis on the fact that a number of its products will soon be available as-a-service through cloud, giving it an edge over its competitors.
"GFI hasn't stopped investing  in our on-premise portfolio to do cloud, but we've taken the on-premise portfolio, adopted it for cloud and then we've carried on investing in the on-premise products," said Azzopardi. "By the end of the year, we want to have eight or nine functionalities inserted into this portfolio."
According to David Ball, Director of Marketing, IT Operations, GFI, this is hugely important because it gives the customer a choice—it allows partners to cater to those looking for cloud options, as well as those wanting on-premise solutions.
"Some people don't want to put their software on a server in-house anymore. They want to buy their software like they buy electricity—they want to rent it," Ball told Reseller Middle East on the final day of the partner conference.
"Cloud, to different people, means different things. It can mean platform-as-a-service, infrastructure-as-a-service, software-as-a-service—all the combined really is cloud. And what we're doing is we're offering our functionality as-a-service. It's entirely great for the customer, because they can now choose."
Of course, Ball admitted that, with the on-premise software, you get more features, simply because the customer can play with it after deploying. When deploying a service designed for the masses, you're only going to get the bare essentials—but then again, sometimes that's all the customer wants.
But were the partners convinced? Certainly, they were encouraged by talks from GFI's technical representatives—GFI said that it was there to help, whether that be through answering customer queries or else providing full-on certification courses. Likewise, Comguard said that it was committed to helping its partners sell GFI products.
"We're here to support you—not fight or compete with you," Sapru told the delegates. "We address your customers, but that's entirely for lead generation purposes. Very often—many of our partners would have noticed this—the customers will tell you that they heard from us, but it's just to support you.
"We have a very motivated and supportive team here at Comguard. I keep seeing you contact my team, which is great—keep them busy and keep asking them questions. Keep asking for discounts—when you ask for discounts, we know the lead is alive and well."
By the end of the event, following a glitzy prize-giving ceremony celebrating GFI's most successful partners, everyone was convinced by Comguard's pledges to keep GFI going strong over the next year. Certainly, the event was enough to convince GFI that it needn't look around for any more regional distributors.
"You heard some growth numbers—long may they continue. And if it isn't broke, don't mend it," said Ball. "It's a business world we're in, so never say never, but I don't see any reason to change things. Since we've been sole distributor with Comguard, the work that they put in is there for everyone to see. Why mess with that?"