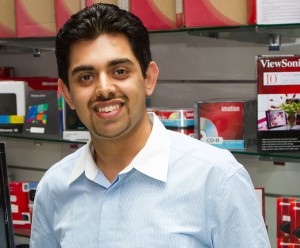 With its new display centre in Bur Dubai, MaxTouch Computers is hoping to convince partners that its new line of display products is worth investing in.
Everyone knows that margins are wafer-thin in the low-end hardware market. When you talk laptops, TVs or PC monitors, some resellers and retailers are struggling with margins of Dh5 for each unit—the sales hardly seem worth bothering with in such times.
However, distributor MaxTouch Computers is looking at things a little differently. Yes, margins on low-end gear are wafer-thin, but with a little added value, the distributor thinks that it can claw back some extra cash for itself and its partners.
The distributor recently got into the display solutions game, going heavy on vendor ViewSonic's products. All-in-one display tablets, 3D projectors and digital signage products are all part of MaxTouch's repertoire now, and the distributor is keen to get the market excited about these technologies.
In order to do this, MaxTouch set up a display centre near its head office in Bur Dubai. The centre was designed to showcase its impressive array of new products to partners and customers, as well as offer an insight into how ViewSonic's products can provide real value.
Deepak Belani, General Manager, MaxTouch Computers, believes that getting into new technologies quickly will provide the most value to partners. Standing right in the middle of the display centre is a ViewSonic solution that he believes is an example of such forward-thinking technology—the VSD220 Android all-in-one.
Essentially a 22-inch, touch-screen monitor, the VSD220 also comes pre-loaded with an Android operating system, meaning it can be used as a large tablet, too. It's already garnered great reviews from the leading technology magazines, and Belani says that the time is ripe for the technology to pick up in the Middle East.
"This is one product which is going to be, I think, the future," he says. "It will be replacing everyone's desktop, it will replace devices as a point of sale, you can use it in the education sector, where it's kept on every student's desk, and you can use it as digital signage."
In terms of the target markets, MaxTouch believes that the VSD220 will do particularly well in the education and retail segments, though there are plenty of others it could potentially target. So the distributor is looking for partners that it knows will sell these devices in their dozens, according to Belani.
"When you tie up with the value-added resellers, they have a link to the education sector, they have a link to hospitality, and they have a link to retail. So we do it through them," he says.
MaxTouch has also taken on a number of ViewSonic's other products, including an impressive 3D projector that will produce a stunning 85-inch screen. And the price point is considerably lower than anything you'll find from the likes of Samsung or Sony.
But what is the value here? After all, these solutions are simply boxed products, meaning it's unlikely they'll fetch big margins. According to Ramesh Belani, Managing Director, MaxTouch Computers, it's all about finding the right partners who have links to the right markets. He also believes that the display centre will work wonders in terms of proving the products.
But will the plan work? Ramesh seems positive: "We've never been in this game, but in the last three months since we started this game, we find that the signals are good."