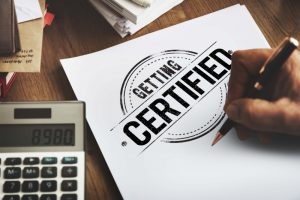 Certifications are key to build credibility with customers. Reseller ME speaks to industry players to understand how partners can differentiate and remain ahead of competition by being certified for relevant technologies.
Certifications enable customers to differentiate a partner based on expertise for a technology. Today in a competitive business space, resellers must step up their game to stand out in the market. Partners are increasingly understanding the importance of being certified.
"Certifications play an important role in demonstrating that the company knows the products and services they are selling in order to meet customer expectations," says Sanjay Ahuja, VP, Middle East and Africa, AGC Networks. "Partners who have invested in certifying their man power also understand the complexities involved and can troubleshoot and interface with the OEMs for faster resolution."
Agreeing, Rui Silva, channel manager, Alcatel-Lucent Enterprise, says that being termed as a 'certified partner' communicates to the market that the partner has participated and successfully completed the necessary training and possesses the level of knowledge, which is required to speak with customers as vendor representatives.
Nirmal Manoharan, regional director of sales, ManageEngine, says, "Certifications help customers determine which partner is most suitable to provide them with the technologies and solutions they require."
Silva adds, "Customers constantly ask us for this information because it gives them a sense of comfort that they are dealing with a partner that has the skillset to help with their requirements."
That's not the only reason, adds Alfred Tharwat, head of training and data centre consultancy, R&M Middle East, Turkey and Africa.
"Customers also seek certified and authorised partners as they can be confident that they will receive genuine systems and professional service from certified partners. Medium to large customers are mature enough to recognise the added value afforded by certified partners."
According to Tharwat, technically, they are regularly trained to install and implement the vendors' solutions.
"And commercially, they can provide best price as they typically enjoy rebates, discounts and other incentives from the vendors," he adds.
In case a partner chooses not to invest in certifications, he will face several challenges – right from losing business to a certified partner to not being able to stand out from competition.
Ahuja says, "Technology is evolving at a steady pace and so it is crucial for partners to leverage new technology faster than their competition and be able to deliver value for their business. Certification in new tech gives a business that competitive edge. Customers tend to exclude partners in the bidding stage who don't qualify on a minimum set of certifications required to support their infrastructure."
According to Cisco's channel leader for Middle East Theatre, Shadi Salama, there has been an industry shift in channel training priorities away from vendor-specific certifications and toward industry certifications and skills development.
"The challenge for both vendors and partners is keeping pace with training as well as developing the right mix of IT professionals. And, observers say, vendors that do the best job of training their partners will have an edge at being successful," he adds.
Zacky Vaz, regional channel manager, Fortinet, says, "Certification on complementing technologies helps partners to cross-sell and upsell solutions. It also gives them the edge for critical implementations. Moreover, 'specialisation' is the key to differentiate from other partners and increase margin opportunities."
With the IT industry becoming increasingly multi-vendor, it is important for a partner to understand the unique aspects that a specific vendor brings to their portfolio, so that they can drive customer preference and sell more.
Martin Hester, head of channels and alliances, EMEA, Juniper Networks, says, "Multi-vendor solutions bring flexibility and business value for the end-user but they also require a higher level of expertise from partners. Partners need to understand and support more complex solutions. This creates a greater level of service and integration revenue for partners and a higher level of engagement with the end-user."
According to Jeroen Schlosser, managing director, Equinix MENA, the company's commitment to providing formal training and certification enables channel partners to best prepare their sales and technical staff to offer customers the optimal solutions to meet their evolving cloud needs.
"Ultimately, this not only increases a partner's overall revenue potential, but also their ability to maintain 'trusted advisor' status within the enterprise."
Although regional partners do realise the importance of being certified, are they investing in this area?
Silva says, "I believe more can be done at all levels in order to address the IT skills shortage in the region. Channel partners are lacking when it comes to training their staff. Training only seems to be provided when there is an immediate requirement in the market.
"This leads to poor customer service because the employee does not have enough exposure to the products or solutions, nor enough time to build the knowledge to market it to customers. Overall, channel stakeholders will be better equipped if they receive the right training on the products and solutions that they are installing."
Vendors and distributors can play a vital role in offering partners appropriate training support. They should educate partners on the opportunities that will arise from being a 'certified partner'.
Hester says, "Vendors and distributors offer various mediums and resources for providing training to resale partners. Online training, webinars, classroom-based and virtual labs are part of the offering. Training is available for pre-sales, sales, post-sales and consultant personnel. Distributors can act as authorised training centres, using vendor-authorised trainers and offering certification classes to existing and potential partners."
There is no question that certifications will enable partners to win more business. However, they need to spend time and resources in ensuring they are doing so for the relevant technologies in their portfolio. This will certainly help them differentiate from competition.