SOUQ.com has announced that this year's White Friday will be the biggest event ever, offering more than two million deals on the widest variety of products.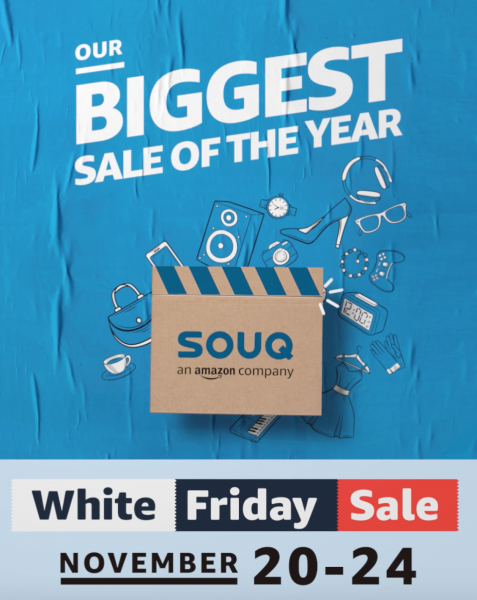 The Amazon-owned e-commerce platform introduced White Friday in the Middle East in 2014 as a regional version of the global 'Black Friday', re-naming it as a mark of respect to the day of worship in the region.
The event will be held from the 20th to the 24th November, customers across the GCC and Egypt can choose from more than two million deals and offers, with discounts of up to 70 percent available.
Keeping customers in mind, deals will be customised for UAE, Saudi Arabia and Egypt, providing customers with the products and brands that they are most looking forward to, at great prices. There will also be top Spotlight deals that will be exclusive to SOUQ.com.
Ronaldo Mouchawar, CEO & Co-Founder, SOUQ.com, says "Since we launched White Friday on SOUQ.com in 2014, customers have told us how much they like this deals event, so we are happy to be back this year with more deals and more choice than ever. We are also glad that hundreds of small and medium sized businesses are joining White Friday this year, after the positive sales uplift they saw in previous years."
Shoppers across the GCC and Egypt can make huge savings with discounts of up to 70 percent across all categories, including mobile phones (up to 60 percent off), TVs (up to 40 percent off), appliances (up to 60 percent off), cameras (up to 70 percent off), groceries (up to 70 percent off), toys (up to 70 percent off) fashion (up to 70 percent off) and many more. Customers can enjoy price drop deals, where they will be alerted immediately after prices drop on certain goods. The biggest ever White Friday sale on SOUQ.com will feature deals on products from many local and global brands. Hundreds of small and medium-sized business, including craftsmen from across the region, will offer deals on SOUQ.com.
SOUQ.com's banking partners in KSA, UAE and Egypt will offer monthly instalments with 0 percent interest for purchases on the site (subject to terms and conditions).
SOUQ.com has invested in seller fulfilment and delivery infrastructure to empower SME and large retailers' growth in the UAE, KSA and Egypt. Throughout 2018, SOUQ.com has improved delivery fulfilment networks with new fulfilment centres in Cairo, Jeddah and Dubai. The expansion of these large fulfilment centres has significantly increased capacity and has improved the Fulfilled by SOUQ (FBS) program in line with high ecommerce growth in the region. These investments are made to empower over 14,000 sellers with customer centric technology to do extremely well in these events by allowing them to save time, boost their sales and grow their businesses without having to worry about logistics.