During HUAWEI CONNECT 2019, Huawei's Deputy Chairman Ken Hu gave a speech at the TECH4ALL Summit. The theme of the summit was "How Inclusive Innovation Can Empower the World". In his speech, Hu elaborated on Huawei's TECH4ALL initiative and shared the initiative's current progress. He also called on more individuals and organisations to join Huawei in addressing global is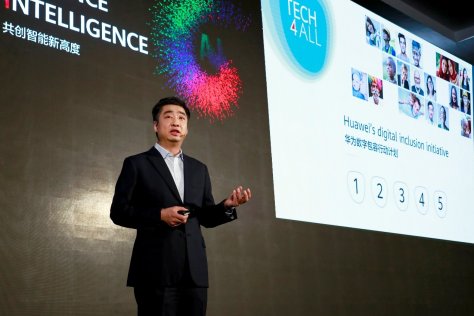 sues related to healthcare, education, development, and the environment. The target of TECH4ALL is to help another 500 million people benefit from digital technology in the next five years.
Today, Huawei pressed ahead with its long-term initiative, TECH4ALL, to promote digital inclusion. Digital inclusion means every individual and organisation can equally access and use information and communications technology.
"Technology shouldn't sit in an ivory tower. Instead, it should benefit all humanity. We firmly believe that digital technology will benefit every person, home, and organisation." said Hu.
Huawei's vision and mission is to bring digital to every person, home and organisation for a fully connected, intelligent world. "Digital inclusion" best reflects the social value that Huawei can create through its vision. Against this backdrop, TECH4ALL was born.
"Digital technology is reshaping the world. We want it to benefit everyone and we want digital inclusion for all. In this regard, technology is the foundation, applications are the key, and skills provide assurance." Hu said. "TECH4ALL will focus on three areas: technology, applications, and skills."
Technology: Huawei will continuously reduce connection costs and remove coverage barriers through technological innovation in connectivity, AI, cloud, and mobile devices.
Applications: Huawei will empower ecosystems and help developers create more applications for different communities and industries.
Skills: Huawei will work with local governments, communities, and other sectors to enhance the digital skills of all of society.
"We must have a clear direction if we want to leverage what we have to create value." Hu said. While determining the direction for TECH4ALL, Huawei took into consideration its available capabilities and viable directions based on the potential impact of the ICT industry and the meaning of digital inclusion. Huawei also identified four domains in which it could comprehensively promote digital inclusion.
Healthcare: Using digital technology to give more people easy access to better healthcare resources.
Education: Using technology to give the disadvantaged, such as women and teenagers, equal access to education and enrich education resources.
Development: Eliminating development gaps for various sectors, businesses, regions, and groups, ensuring equal access to digital resources and enabling technology to benefit everyone.
Environment: Using innovative technologies to help NGOs more efficiently protect and conserve ecosystems.
As of today, Huawei has ensured smooth communications for more than three billion people around the world, and supported the stable operations of more than 1,500 networks in more than 170 countries and regions. Hu said that in the next five years, the company will help another 500 million people benefit from digital technology. These benefits will not be limited to connectivity, also including the benefits of technologies like AI, cloud, and smart devices as well as related applications and skills.
Currently, Huawei is working with many international NGOs to address problems related to healthcare, education, development, and the environment on a much bigger scale.
In Kenya, Huawei is working with organisations like UNESCO and Close the Gap, a NPO in Belgium, to convert cargo containers into mobile, digital classrooms that provide digital skills training to teachers, women, and young entrepreneurs in remote rural regions in Africa. This will give them equal access to digital education resources. Through these efforts, the futures of numerous young people will change for the better.
In tropical rainforests, Huawei is working with Rainforest Connection (RFCx) to convert a huge number of used Huawei mobile phones into solar-powered devices that will monitor the rainforests. This is transforming these mobile phones into the "ears" of the rainforests. Equipped with AI, these phones are now used to listen to and identify the sounds of trucks and electric saws that are illegally felling trees, helping international environmental protection organisations more efficiently protect the planet. Next year, another 6,000 square kilometers of tropical rainforests in even more countries will benefit from these efforts.
The TECH4ALL Summit has attracted representatives from many organisations. These include international organisations like UNESCO, WWF, and WEF, NGOs like RFCx and DIVE Medical, and governments, businesses, and industries. All of these have contributed ideas to the TECH4ALL initiative.
Ms. Ann Therese, Head of UN UNESCO's East Africa Office, said that ICT and AI will help her organisation achieve the SDGs more rapidly. She announced that they will join Huawei in TECH4ALL's DigiTruck program, to provide digital skills training to teachers and women in remote rural regions. The World Wildlife Fund (WWF) announced their program "protecting biodiversity with technology", which will integrate AI with the monitoring, research, and conservation of endangered animals. This will enhance the protection of biodiversity and better conserve the natural ecosystem. Representatives from RFCx and DIVE Medical expressed their plans to duplicate and promote the best practices of rainforest protection and the AI-aided detection of visual impairment among children. This will enable more individuals and regions to benefit from digital technology.
"TECH4ALL aims to enable more people, homes, and organisations to enjoy the beauty of the digital world. We want to protect vulnerable groups and make ordinary people extraordinary. This is the unique value of technology." said Hu. At the summit, Hu also extended an invitation to all participants to join together, saying, "Digital inclusion will need the joint efforts of businesses, governments, and society at large. Currently, we have just made the first small step. We welcome more people and organizations to join us."