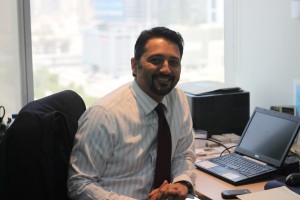 Amir Sohrabi comes with 22 years of extensive experience working across prominent organisations spanning Europe, Asia, Middle East and South America and is currently the regional alliance manager at SAS responsible for the company's operations across the Middle East and Africa.
With a bachelor's degree in management and economics in addition to a master's degree in management information from George Washington University in the USA, Sohrabi says that his most remarkable achievement lay was the success of his own start-up managed services company, which he operated and maintained for seven years, before positioning it for a successful acquisition.
Despite his considerable experience, Sohrabi does not consider himself to be a techie; he says "I would rather consider myself as an old-school futurist who understands technology as an enabler and the equaliser for greater change. My experience in the industry has only affirmed my belief in the impact technology can have on people's lives and there's still more change to come."
Sohrabi describes himself as a result oriented professional with a passion for emerging markets and talent development. "I am a people person by nature and find the constant interaction with members of the channel as enjoyable as it is challenging. I enjoy being able to create a value proposition through channel partners as I believe that the channel is an integral part of the ecosystem. In addition, l get great satisfaction from enabling local partners to provide value to the market and take pride in local enablement and fostering talent and leadership," he says.
Sohrabi adds, "I am a tenacious person who is not easily discouraged. I am also an out-of-the-box thinker who thinks of the team first, putting them before me. I like to be in the middle of a complex issue and being the one to resolve it."
Like many others in his field, Sohrabi finds disconnecting from work a tad difficult, something he counters by actively coaching children in sports during his free time. "I manage by getting involved with coaching younger kids in sports during my free time. Being a parent coach allows me to totally disconnect and help develop youth–which is a way of giving back to society. In any sports arena one can teach tenacity, honesty and team work and then you can see it all come together on the field. There is a great feeling of satisfaction in witnessing this sort of development in kids," he explains.
Aside from his love for sports and the outdoors, Sohrabi finds Zen in the kitchen and enjoys cooking up the occasional culinary delight. "Cooking is a great release for me especially if I am outdoors, particularly when I cook for friends and family. Cooking also keeps me humble," Sohrabi says.
Interestingly, he lists collecting fountain pens as a hobby and rewards himself for personal and professional accomplishment by purchasing unique fountain pens.
A man with a disciplined routine, Sohrabi begins his day with a work out and a healthy breakfast, something he believes is vital to a healthy mind and soul. His early morning fitness regime gives him the frame of mind to chart out his plan for the rest of the day and prepares him for the numerous client and staff meetings. He is careful to be at work on time and prioritises his workload to ensure he is home in time for dinner with his family.
"Ten years from now, I would like to be in a leadership position for an organisation that gives me the opportunity to help develop its talent in leveraging technology to help solve complex problems. My ultimate dream is to be in a position that will allow me to utilise my years of experience in helping develop and nurture an organisation, while at the same time affording me the opportunity to spend quality time with my family," he says.