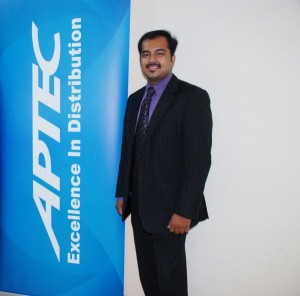 "I like to leave my unique signature in anything I touch – be it a thing or a person. Right from a very young age, I hated to be part of the crowd. People never forget experiences – so I try to bring a 'wow factor' in the experiences I give them – be it my family, friends or colleagues. Everyone should benefit from their association with you and I bring the same qualities to work by focusing not just on customer satisfaction but on 'customer delight'. I believe that a person's ability to succeed and grow depends on his or her ability to build and maintain people's trust which is built only when one delivers on commitments. Trust is the basis of any long term relationship, personal or professional and once this is established, the rest is given," says Govind Haridas, security and storage business unit manager at Aptec Distribution.
A social being by nature, Haridas values both his professional and personal relationships and has made these the focus of years of hard work and clear communication. "Working in the channel has made me more responsible. Apart from being responsible for the success and welfare of your team members, as an executive responsible for the organisation's channel initiatives, I have learnt how to look beyond personal successes and encompass the entire ecosystem of people and organisations that I work with. I am well aware of how one decision can impact all these people and so there is a tremendous onus to create a win -win situation for all stakeholders.
15 years ago, Haridas began his career in the telecom industry but four years later found himself looking for a more challenging and perhaps more enriching career. He says that he then made the conscious decision to delve into the world of IT, "which is so dynamic that one can never say that one has arrived – there is something new to learn every day," he explains.
"I have worked across the dynamic markets of the Asia Pacific, India and most recently the Middle East and. In my roles I have had the opportunity to evangelise Information security when it was in its nascent stages and promoted concept such as IT outsourcing. Today these domains have matured and become the mainstay of the IT industry. And now we are all witnessing the eventual transition to cloud services. The shelf life of an IT product or service is only till the 'next big thing' replaces it. The rate of change in our industry is so very dynamic compared to a decade ago. Last month a giant like Kodak filed for bankruptcy while an infant company like Instagram is bought for a billion dollars. All the traditional rules are being re-written making it all the more exciting for those of us in this industry who are willing to learn, adapt and grow," Haridas states.
It is this aspect of the IT industry that makes working in the channel worth the effort for Haridas. Not only does he enjoy the ability to influence the strategies and successes of the company's channel partners, he also relishes the constant interaction with people from all walks of life. He says, "The exposure and visibility one gets by being part of the distribution channel is fantastic. Programs are created and driven for the whole region rather than one small country in addition one gets to work with, interact and learn from the cream of the industry. The experience of working with industry captains across both vendor and reseller organisations to ensure the channel grows consistently is undoubtedly what I enjoy the most."
While he remains passionate about work, Haridas finds solace and comfort when he is with his wife and two children. "All the tensions of the day melt away when I see my daughter's smile. My son engages me in his various games and as a family we travel together, got out for movies and shop incessantly. Although she understands my work pressures, my wife does joke once in a while that she would like to swap places with my Blackberry," he says.
A voracious reader, he hopes to one day be a more peaceful, blissful, healthy and spiritually aligned soul. "I definitely hope to leave indelible mark and leave the Earth a better place than I found it. My greatest dread is to go as just another statistic," Haridas says.