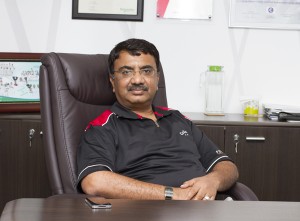 Al Rostamani Communications, part of a biggest business conglomerate in the UAE, is one of the top 10 systems integrators in the region with a track record of executing some large-scale  projects. Mohammed Zameer, General Manager of the company, speaks about the changing face of the systems integration business.
How do you see the regional systems integration business evolving and your role in it?
We have been in business for almost 11 years now. We are not the master of anything; our range is very wide because our business is split in half into telecom and IT. And in IT, our breadth is very wide because we are into all aspects including cabling, security and voice.  Thanks to our exposure to the telecom market, our business was unaffected even during the recession because telecom spending didn't slow down.
The last year was challenging in the sense that there was too much competition for the business. Also, the business has changed because of the disruptive technologies coming to the fore. We just can't afford to do business like the way we used to do earlier; it was dominated by products and that model isn't going to work anymore. In the near future, users many not even be worried about integration because they are moving from a Capex to Opex model. You can't go and tell a customer that you have this product to sell.
Does most of your business come from infrastructure?
I'd say both infrastructure and telecom. There are many systems integrators in the region who are well entrenched in both these segments and it was consciously developed by us.
Any reason why? These are two completely different markets.
Absolutely—in terms of size of projects, sales cycles, business processes, etc. But one advantage is that the technical expertise required for both enterprise and telecom is almost similar. So if you have a good technical support team that can be mobilised at short notice for telecom projects, you can deploy them for enterprise business as well once the telecom project is over. This give us lot of leverage.
What would you say your key differentiator is compared to competition?
We don't compare ourselves to the likes of GBM because they are in the different league. But, if you look at the local players, many of them are involved in infrastructure, ICT, voice and security. We are the only SI who is equally strong in all these four domains.
Where did the growth come from in 2012?
Telecom and ICT, especially from storage and virtualisation. We are a certified VMware partner and we work very closely with Fujitsu, as well. We have executed some big projects in the banking and hospitality sectors.
You said customers are moving to an Opex model. What will be the impact of this on SIs?
We will die if you don't change. The business model today will be non-existent soon and the next phase of growth is going to come from cloud, BYOD and LTE. I don't see any space for any of the technologies or products we are selling today.
Are you looking at managed services?
We are already offering managed services and have invested heavily in a network operations centre and a disaster recovery centre in Abu Dhabi.
Does it help being part of a big group?
Yes, we are able to leverage the group strength and the Rostamani brand name is very visible across the UAE. That is why, when we look for partners, we always choose from the top three because I believe these top three will take 80 percent of the market. We don't want to struggle with the 20 percent.
Do you see a big demand for security?
Yes, in the aftermath of the breaches we had recently in the region. But, unfortunately, security has always been reactive and I don't see many customers taking a proactive approach. I think that's got to do with the fact that the results of security investments aren't always very tangible.