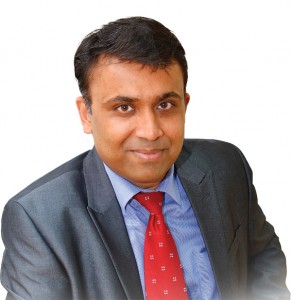 "Envision your career to be the best in the world .Focus on impact and not on income. Move out of your comfort zone. Be the most ethical person you know and do not settle for anything less than excellence"
"I believe that the basic core of leading the executive teams in consistence with the strategy and commercial objectives of the board and the stakeholders remains unchanged. There is more thrust on creating a culture which is participatory, accountable, transparent, responsive and equitable. It is less about command and control and more about connect and create," says Aloysius Fernandes, president, IT Volume, Middle East and Africa at Redington Gulf.
With over 22 years of experience in the channel operating across a variety of sales, procurement, business management and human resource management roles, Fernandes is now responsible for leading the distributor's volume distribution operations across Middle East and Africa. In his role, he is also responsible for the organisation's core functions such as CRM, logistics, IT and HR and admin to support the next wave of growth.
Prior to joining Redington Gulf, Fernandes was part of senior management at a global IT distributor where he led a merger and also set up new markets across India and the larger subcontinent.
Fernandes believes that today there exists a clear shift from an environment of internal focus to one that is focused on customers. "The culture of innovation to provide these customers greater value underpins an organisation's ability to succeed in the long run," he says.
When asked about the essentials behind establishing a successful distribution business, Fernandes cites the example of Redington Gulf. He describes the organisation as being a supply chain services company whose entire offering comprises four blocks including distribution, logistics and warehouse services, financial services and post-sales support services.
"Our success is dictated by the fact that we have situated ourselves at arm's-length of demand. This implies local stocking, local currency transactions, inducting local talent, developing local skills, offering local credit and providing post sales services locally to our channel partners. This approach allows us to improve our service level deliverables across each of our areas of operations," Fernandes explains.
True to his statement, the company operates across 14 markets including the larger Middle East region, Bahrain, Nigeria, Ghana, Kenya, Uganda, Tanzania, Morocco and Libya.
Redington Gulf reported revenue of $1.6 billion, the largest reported by any channel player in the region. Fernandes says that company owes its success to its team. "We have been crafting and building our team. We have consciously invested in nurturing the local talent across our offices and warehouses as well as enhancing the skills of our partners. At present, we are exploring innovative value added solutions in the supply chain services space, which would help us provide an enhanced experience to our partners," Fernandes says.
Identifying untapped markets with great potential together with the constant strive for innovation across the supply chain services space is central to the company's strategy for growth.
Fernandes says that because Redington addresses a number of markets across Middle East and Africa, each unique in its own way, "striving to perfect the supply chain for each country across the varied product categories" is perhaps the biggest challenge.
He says that having been in the supply chain business right from the inception of his career, his well rounded experience and knowledge of the market are his core competencies. His experience has taught him the importance of relationship building and helps him offer core deliverables in a manner that measures up to the company's customers while meeting vendor expectations, a task many find tricky.
"Diverse technological expertise, solution based competencies and end user relationships is the value our channel fraternity brings to the table and makes our collaboration very exciting and rewarding. We along with our channel partners can service, virtually any end-user segment of the market across Middle East and Africa. It is very fulfilling that we, as their supply chain partners, can actively help them harness their entrepreneurial skills to provide innovative solutions to their end customers," Fernandes adds.