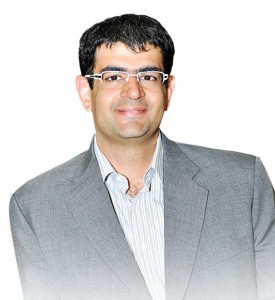 "Retail is about detail. The small details are what ultimately make the difference between a good retailer and a better retailer"
If you've ever gone shopping for electronics, you already know Jacky's Electronics, a premium electronics retailer in the region.
Ashish Panjabi, COO at Jacky's Group took over the reins in the family-run business in 2004. "I initially was involved in the finance side of the business; a few months later I got involved on the e-business side of things and in 2000, launched the first e-commerce electronics website in the UAE.  Over the years, I have managed various divisions within the company including the Mail Order Division, Home Appliance Distribution Division, Institutional Sales, Office Automation Division, a Photographic Studio, and an audio-video system integration company that we were part owners of," he says.
Today, Panjabi is primarily responsible for the group's digital printing division, visitor management solutions division and retail division.
Contrary to his growth in this industry, Panjabi actually started off his career as a financial analyst for a graphic arts equipment manufacturer and was based at the company's Asia-Pacific headquarters in Hong Kong.
"I love the power of information.  It is a culture I try to instill into anyone I meet and this is also why I love the power of social media.  There is so much knowledge to be gained and shared with people who you wouldn't otherwise know or even meet. So when you hear a great story about someone else's experiences, it motivates me to aim higher," he says.
Panjabi adds that his ability to look at the 'bigger picture' without complicating the present is a great asset. "There are certain fundamentals that are timeless.  They may be packaged in different ways and it is easy to lose sight of the fact that if the fundamentals aren't there, it isn't going to fly.  It's as simple as that and keeping things simple has always been somewhat of a strength," Panjabi adds.
Part of this realism has rubbed off on the company; Panjabi says they set down realistic growth strategies and expectations. "Expecting growth rates of 30%, 40% or 100% like we heard about a few years ago isn't sustainable.  Choosing a respectable growth rate, whether it be 5%, 10% or 15% is better, you can work to grow year on year instead of growing exponentially one year and crashing the next.  If there is one lesson that many of us learned during the recession, it was learning to adjust our expectations to a sustainable level," Panjabi states.
He adds that he has been fortunate in his role as a COO because his team has willingly accepted his management style. "I've always had a team that's been open-minded enough to want to do things differently.  Instead of being the bottle-neck, I've tried to ensure that as much responsibility gets delegated down the line. I believe only when the team feels they own a process, will they put their heart into ensuring they succeed at it. My team is well aware that while I may not breathe down their necks, I do set high standards and am firm in my actions if they're not met," Panjabi explains.
He firmly believes that there is only so much one person can do and for many group executives, the challenge comes in developing and nurturing the right set of people. He says, "While the primary role of the group executive is to set the strategy in place and ensure it is executed, it is important to ensure it is followed up on.  Too many executives have removed themselves too far from their business and you need to learn to be humble enough to get on the floor and see firsthand what is happening."
"It is important to be able to listen and be open to criticism. It is equally important to hear out suggestions and keep up with the latest trends, for that is our challenge, to identify the next big trend early enough. This is how you see the bigger picture. Admit when you're wrong for being defensive doesn't help. Acknowledging a situation, addressing it and correcting it