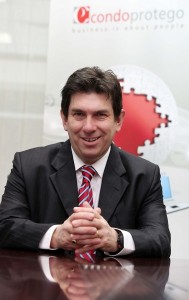 Resist or go with the flow? The BYOD boom may bring new security challenges but it is the reluctant businesses that may pay the price, says Condo Protego CEO Andrew Calthorpe.
We love our smartphones and tablets. Never before have we been so in thrall of technology and so dependent on it for day-to-day functions.
Smart devices are no longer accessories; they are veritable life support systems brimming with all the media we need for work and play.
And herein lies the problem for CIOs; employees are so married to their tech that they just cannot let go in the workplace.
This is certainly the case in MENA. The region's bring your own device (BYOD) alacrity was recently highlighted by a study from networking vendor Aruba Networks, which reported that 80 percent of surveyed companies allowed some form of access to personal devices. In another 2012 study, Fortinet pointed out that 56 percent of respondents in the Middle East considered using their own device as a right rather than a privilege.
There are of course plenty of operational plus points to be had from grasping the BYOD nettle. For a start, outlay on smart devices can plummet if workers can use their own.
And they seem to be willing to pay for that convenience – at least up to a point.
According to this year's State of BYOD Report by Good Technology, 50 per cent of BYOD-supporting companies require that all costs are covered by employees, who are more than willing to comply. The other 50 per cent offer a mixture of options, including the ability to expense certain aspects of use.
Arguably the most important BYOD benefit is worker satisfaction. Juggling multiple phones and tablets is a headache and a proven productivity-killer. For switched-on workers, the thought of being shackled by overly restrictive and inferior technology is always going to be a motivational buzzkill.
BYOD devices are also far more likely to be cutting-edge than those bulk-bought for work, which means businesses can tap into mobile wizardry and hardware refresh cycles previously beyond their budgetary realm.
Even so, there is plenty to be wary of before opening the floodgates. This is particularly true in the UAE, which was highlighted by Websense in its recent Threat Report as the sixth most victimised country in EMEA when it comes to cyber attacks.
Lack of control remains the overriding concern. The comfy status quo of company-issued kit and its accompanying tried-and-tested policies just doesn't exist in a BYOD-friendly environment.
But a more relaxed stance needn't be the precursor to a malware-infected, SPAM-laden Wild West. With some incisive consultation, a robust BYOD policy can soon transform liability into opportunity.
For the canny VAR, this means there is plenty to get excited about. Who better to support BYOD policy development than the team that has already helped configure the IT architecture?
Then there's the security solutions themselves. The relentless addition of new devices to networks presents a considerable challenge, but the shift to focus on individual protection is eminently achievable with the right guidance. Applied with precision, the voice of the VARs can – and indeed should – be hugely influential in shaping the region's BYOD future.