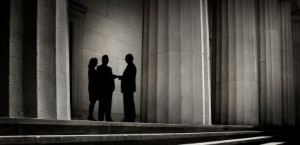 Samsung's reported offer of up to $7.5 billion for BlackBerry may turn out to be only a rumour, but such a match could make sense for both sides. 
BlackBerry and Samsung quickly denied a Reuters report on Wednesday that executives of the two companies had met about a possible acquisition. But the once-mighty Canadian mobile vendor may need a suitor if it can't weather its current transition, and Samsung could gain a lot from BlackBerry's security assets and enterprise relationships.
Chief among BlackBerry's assets is its security technology, including secure data centres around the world. Its security credentials keep U.S. President Barack Obama and other government and military users on the company's devices.
Samsung itself has been cosying up to the company. In November, the South Korean vendor said it would integrate BlackBerry Enterprise Server 12 with its Galaxy smartphones and tablets.
A tie-up with Samsung might fit BlackBerry's long-term strategy, too. Though BlackBerry still sells handsets, it sees its future growth in enterprise software and services, said Avi Greengart, analyst at Current Analysis. Much of its software already works on multiple platforms, including Android and iOS.
"I could absolutely foresee a day when BlackBerry would stop selling phones," Greengart said. Meanwhile, its security, device management and messaging products could complement Samsung's phone lineup and Knox security platform, he said. Samsung could also gain access to many lucrative enterprise customers that are tied to BlackBerry today.
In addition, BlackBerry is a growing player in the Internet of Things, a field Samsung is intensely interested in. BlackBerry's QNX operating system is used in many automotive systems, including the next generation of Ford's Sync in-car infotainment platform, as well as in industrial equipment. Samsung's IoT efforts have been more focused on the home so far.
Acquiring BlackBerry would carry risks, though. The vastly changed company faces challenges in making the transition to new software products and signing up customers for new services with per-user fees, Greengart said.
Competition for mobile enterprises from the Apple-IBM partnership may also heat up, according to Pund-IT's King. That deal is intended to combine Apple's mobile platforms with IBM applications and Big Data analytics, giving Apple a way into more enterprises. With the first fruits of the deal coming out, the venture to has just begun.
"Over time, I think the companies together could mount a very effective competitive front against BlackBerry," he said.
Originally published on
IDG News Service (San Francisco Bureau)
.
Click here to read the original story.
Reprinted with permission from
IDG.net
. Story copyright 2018 International Data Group. All rights reserved.