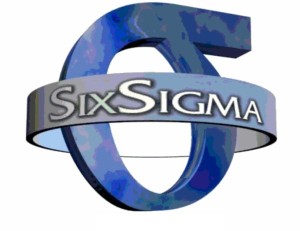 Since General Electric adopted Six Sigma, a process-improvement strategy developed by Motorola in the 1980s, the term has become a catch phrase for quality improvement.
Originally intended for use in manufacturing and the supply chain as a way to reduce or eliminate defects, the data-driven, process-improvement strategy has since been applied to other sectors and services, including IT.
So how can a process-improvement strategy such as Six Sigma benefit your IT organisation? We asked IT as well as Six Sigma and other experts. They provided six reasons why adopting a process-improvement strategy makes good business sense, no matter what business you are in.
1. It can help you make better decisions 
"IT organisations usually have large numbers of change initiatives running in parallel, addressing a wide range of factors," says Jim Shulkin, Vice President of Marketing at Daptiv, a project management software provider.
"Implementing [a process-improvement strategy, whether it's Six Sigma or] project portfolio management (PPM) helps you decide which projects to undertake, [how to] streamline existing processes and then drive through and monitor [them] to achieve strategic objectives," Shulkin says. "For IT organisations specifically, PPM involves managing the process of translating the strategy and objectives into the right projects and then focusing on the execution of these projects towards the delivery of overall strategic objectives."
2. It can help you determine what's working and what's not
"Numbers don't lie, and Six Sigma techniques eliminate the emotion of what may be perceived as 'wrong' with a process," says Nikk Gilbert, Vice President, CUNA Mutual Group. "By capturing metrics and allowing for more objective discussion, progress can be made more effectively."
3. It can help improve service(s) 
"Providing great IT service is about more than just meeting service level agreements (SLAs) based on averages, like the mean time to respond or target delivery time," says Scott Marx, Managing Consultant, CompuCom, an IT outsourcing specialist. "IT organisations' client satisfaction is also based on predictability," specifically minimising the "variation in service quality" to consistently deliver great service, he says.
4. It can help you decrease downtime 
"IT organisations strive for 99.999 percent uptime," says Luke Clink, Security Program Strategist, Rook Consulting, an IT risk and security consulting firm.
"Whether it's Six Sigma or another process-improvement strategy, adopting such a strategy will help IT organisations be more successful," by helping to decrease downtime, Clink says.
5. It can improve security 
"As the security threat landscape evolves, CIOs and their security teams must ensure appropriate processes to scale and protect the company's assets," says Clink.
"Similar to finding defects in operational processes, identifying vulnerabilities in security controls and processes is critical, not only for the success of the business, but the protection of its environment as well," Clink says. "A formal process-improvement strategy enables such success and protection."
6. It can reduce miscommunication 
"A project team will have a variety of skills, from technical to operational," which can sometimes lead to miscommunication, says Gilbert. "Six Sigma, LEAN and other strategies, however, create great opportunities for team building and collaboration," by bringing everyone together to work toward a common goal and providing a way to objectively measure and discuss what's working and what's not.