HP and VMware, Inc. announced plans to collaborate to deliver the industry's first federated network solution, designed to  provide customers unified automation of, and visibility into, their physical and virtual data center networks.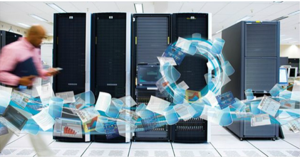 As companies embrace cloud and mobility, manual network configuration has proven time and resource intensive, as well as error prone. Network virtualisation offers a centralized control plane, but does not automate configuration and provisioning of physical network devices.
The new HP-VMware networking solution will federate the HP Virtual Application Networks SDN Controller with the VMware NSX network virtualisation platform to provide customers with an integrated approach to automating their physical and virtual network infrastructure. The networking solution will provide a centralized view, unified automation, visibility and control of the complete data center network, improving agility, monitoring and troubleshooting.
According to Gartner analyst Joe Skorupa, "A hybrid model blends the device-based and the overlay models, transparently mixing physical and virtual devices under a common control plane. This approach promises a rapid time to value, support for bare-metal endpoints (servers, networking, security appliances and so forth) and a smooth migration to an optimal mix of endpoints."
"Networks must be agile enough to enable the adoption of cloud and mobility while ensuring continuity," said Gautam Raj, Networking Sales Director, HP Middle East.  "Building upon our SDN leadership, the HP-VMware networking solution unifies visibility and automation of the physical and virtual network with a common control plane, enabling new application and service delivery in minutes rather than months."
Automating physical and virtual infrastructure
A typical cloud data center network may require 10,000 provisions per day, each requiring at least 20 network command line changes. These 200,000 command line changes would require 3,333 man hours to complete, assuming 1 minute per command. The HP-VMware networking solution promises to eliminate manual configuration of both the physical and virtual data center networks through interoperable automated orchestration of policies. It also aims at creating a single view of the network—both physical and virtual.
The HP Virtual Application Networks SDN Controller also will include support for VMware Open vSwitch Database (OVSDB) management protocol. This enables HP FlexFabric switches to participate in the automated provisioning of the virtual network, which will be delivered by VMware NSX network virtualization platform.
"Customers are adopting network virtualization to gain the necessary agility needed to realize the promise of virtualized and cloud data centers. To be successful, IT organizations need solutions to deliver common management of services and operations across the physical and virtual domains," said Stephen Mullaney, senior vice president and general manager, networking and security business unit, VMware. "By collaborating with HP on a federated networking solution, we will help our joint customers create a unified network operations model that will radically simplify IT in the software-defined data center."
HP also introduced the HP FlexFabric 5930 switch with the VXLAN technology, extending network virtualization to the servers, and allowing customers to leverage their virtual and physical networks to work together as one entity.
Single point of control across physical and virtual networks
The new HP ConvergedControl software application runs on the HP Virtual Application Networks SDN controller and unifies the visibility and control of the virtual and physical networks by leveraging the HP Intelligent Management Center (IMC), which is already integrated with VMware vCenter. This creates a single point of control for both networks, while simplifying management. The HP-VMware networking solution is expected to be available worldwide in the second half of 2014 while the HP ConvergedControl is expected to be available worldwide in the second half of 2014.