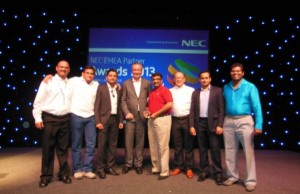 Al Rostamani Communications was recently named Best Banking Solutions Partner at the NEC EMEA Partner Conference 2013, held in Dubai from April 24 to 26.
The conference brought together NEC's major distributors and business partners from over 40 countries across Europe, the Middle East and Africa.
Al Rostamani Communications is a direct partner of NEC for unified communications solutions in the UAE. It claims it is considered one of the most successful companies in implementing telecommunications solutions for the banking, hospitality, healthcare and other major government and private sectors businesses.
"Being in the industry providing mission-critical infrastructure for prestigious clients in various sectors, we understand the importance of voice/data communication in the finance industry, and hence have partnered with the best in the industry to provide uncompromising solutions in ensuring seamless communication," said Mohammed Zameer, General Manager, Al Rostamani Communications.