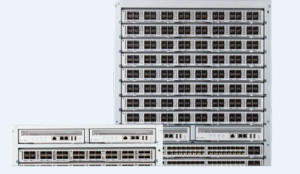 Arista Networks has announced the release of its 7280E Series fixed leaf switches, along with monitoring and automation enhancements to Arista EOS.
The new family of switches features packet buffers, 100GbE uplinks and EOS Smart System Upgrade (SSU), which is now available for both Spine and Leaf switches.
The 7280E Series extends the Arista leaf switch portfolio with a 1000x increase in packet memory.
The same EOS binary image runs across all Arista products and includes support for VXLAN, LANZ, DANZ and Arista Tracers on these new platforms.
"The eBay storage environment is network-intensive and requires switches that are architected for these unique requirements," said Russ McElroy, Senior Manager, eBay Marketplaces and PayPal. "The Arista 7280E 10/40/100GbE systems have buffers and are optimised for intensive workloads such as storage."
The Data Analyzer (DANZ) feature set that provides real-time monitoring capabilities, is now available on the 7500E modular spine switches, providing visibility at 10/40/100GbE speeds at terabit capacity.
New features in EOS include a Tap Aggregation Manager and Deep Packet Inspection (DPI).
The Arista 7280E switches are in customer trials now with general availability in August 2014. The Universal 40GbE transceiver is orderable now.