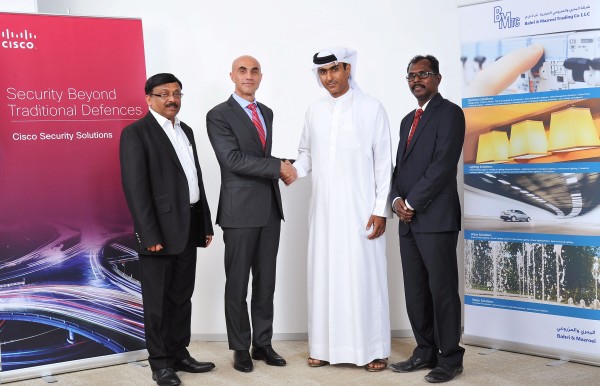 Cisco has recently announced that Bahri & Mazroei Trading Company (BMTC) has successfully deployed a suite of Cisco security solutions for its 'Smart' initiatives focus.
System Integrator, EMTECH assisted BMTC implement Cisco Next Generation Firewall, which integrated ASA 5545 – X with FirePOWER Services, Cisco FireSight Management center 750, Cisco URL filtering service and Cisco Advanced Malware Protection.
Speaking about the implementation, Madhusuthan, IT Manager, BMTC, said, "As part of our smart initiatives focus, we were looking for a new security solution that not only met our IT and compliance policy requirements but also acted as a business enabler instead of just monitoring, controlling and restricting our users' online activities. Our systems integration partner, EMTECH studied our IT infrastructure and requirements and came up with their recommendations, which included a suite of solutions from Cisco. As part of the process, we also evaluated several security solutions in the market and concluded that Cisco ASA with FirePOWER services came closest to fulfilling our requirements. This coupled with the fact that BMTC has already been using Cisco's technology solutions for over a decade proved that the decision to integrate a Cisco security profolio made absolute sense."
According to Cisco, BMTC is one of the first companies in the UAE to deploy Cisco ASA with FirePOWER services since the solution was launched in the UAE in September 2014.
"Every day, UAE organisations like ours are faced with new threats that are becoming more and more innovative in the ways they infiltrate and attack our environment. This deployment from Cisco is enabling us to take a much more mature approach to our advanced threat protection efforts," commented Esam Al Mazroei, Managing Director, BMTC.
According to BMTC, EMTECH has successfully implemented the Cisco security solution, trained their IT team on its administration and has been providing the customer continuous service support.
"We are focused on developing integrated security solutions that help our customers be proactive and align the right people, processes, and technology. What they need is a threat-centric approach to security with protection along the full attack continuum. We applaud BMTC for taking the lead in implementing dynamic controls to manage the pace of change of their IT and network environment and address security incidents with Cisco's suite of security solutions, which will provide- them with an integrated yet robust threat defense to address their biggest security challenges – before, during and after an attack," Rabih Dabboussi, General Manager, UAE, Cisco.