DUBAI, UNITED ARAB EMIRATES, 14th March 2021: Canon announces the latest addition to its best-selling imageRUNNER ADVANCE DX portfolio, the C5800 Series – a true hub for digital transformation in effortlessly bridging physical and digital workflows to empower hybrid workforces.
With accelerating societal changes and the emergence of remote and decentralised working, this fundamental shift in behaviour has impacted the role of the office and what is needed from office technology. To support business continuity, drive digital transformation and facilitate unrivalled user experience between the office and remote working locations – thanks to the seamless integration of uniFLOW Online – the imageRUNNER ADVANCE DX C5800 Series has been developed to support businesses thrive in today's hybrid working reality.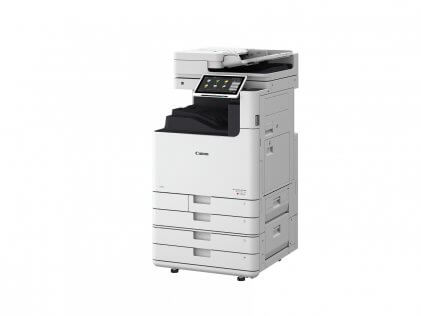 Empowering productivity
The imageRUNNER ADVANCE DX C5800 Series excels in streamlining document workflows by combining super-fast colour print speeds of up to 70 ppm and enhanced connectivity, with the latest scan technology, making it ideal for medium to large enterprises that require high volume, productive output. Designed to enable consistently secure, productive and effective working as part of technology ecosystem that is location-agnostic, the imageRUNNER ADVANCE DX C5800 Series truly empowers productivity.
This best-in-class device combines the reliability and durability of its predecessors in one flagship model through offering enhanced serviceability with long life part and easier replacement capabilities. For maximum uptime and drive efficiency, this device features quick sleep recovery, powering on in just six seconds and quick starting in four. Anti-streak, multi-feed detection and blank page removal, further reduces processing time and improves the scan performance. To save valuable time getting documents ready for use, the series delivers a broad range of embedded finishing options.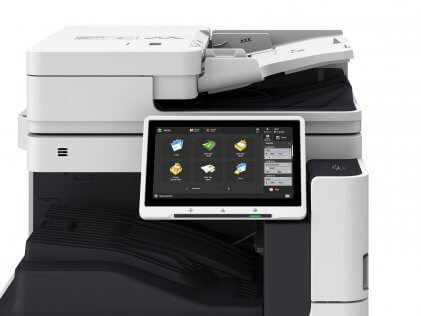 Supporting digital transformation
Digitisation is crucial to making sure teams can connect and collaborate, especially in today's hybrid working reality. The imageRUNNER ADVANCE DX C5800 Series is the latest in the portfolio which is pivotal to customers embarking on their digital transformation journey. As a hub where print transforms into digital, it allows businesses to connect employees with workplace apps and plug documents straight into their workflows through one single platform.
With in-built connectivity, integrating with cloud-storage destinations like Dropbox and OneDrive, documents can be accessed, edited and shared by colleagues working anywhere. uniFLOW Online, Canon's cloud-based software provides a single platform to connect all working locations, through which companies can centrally manage their fleet, no matter where devices are located. It offers simple cost tracking, secure scanning, and robust device security. Users with the uniFLOW Online upgrade have advanced functionalities such as Filing Assist, allowing information to be extracted from paper documents and inputted directly and accurately into workflow software.
Ajay Kumar, Marketing Manager at Canon Middle East, said, "We are excited with the launch of this new series in the region, which will play an important role in supporting businesses that are going through a digital transformation and a shift from traditional to hybrid working environments.  Equipped with the technology necessary for a seamless experience, employees will be able to conduct business and plug documents that are linked straight into workflows using only one single platform. As companies move to this new "normal" we live in today, we at Canon will continuously innovate and work on introducing new products to help in streamlining and optimising business operations".