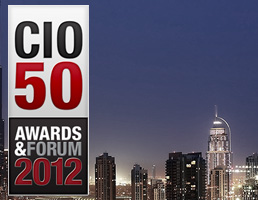 The prestigious CIO 50 Awards and Forum 2012, organised by CNME and CPI, is set to be conducted today at The Address Hotel, Dubai Marina.
The Awards and Forum, which will bring together the 50 leading CIOs of the region under one roof, will honour their ground-breaking work in using IT innovatively to progress and aid their organisation's goals.
"The CIO 50 Awards and Forum will recognise to the leading lights in IT leadership from across the Middle East region. These CIOs have been carefully selected for proving their worth to their organisations – whether it was a single project that brought benefits, or consistent team work that helped a business do better with their top and bottom lines in a difficult recession," said Richard Judd, MD of CPI Technology and Business.
The Awards ceremony will be preceded by a Forum where end-users and vendors will discuss how CIOs can work with limited budgets and lean staffs to get the most out of their investments, and also what their priorities would have to be in 2012 and beyond.
The event is supported by CNME's Strategic ICT Partner Etisalat, EMC, Emitac, Key Information Technology, ITQAN and Aptec.
You can catch live updates from the CIO Awards and Forum 2012 at www.twitter.com/computernewsme. Use #CIO50 to track posts from the event.  You can also like us on our Facebook page (www.facebook.com/computernewsme).