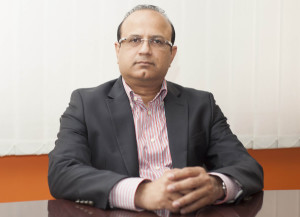 Dubai Computer Group (DCG) is all set to host its first edition of IT Trade Fair on 14th and 15th May 2014. Shailendra Rughwani, MD, Experts Computers and President, DCG discusses the objective and plans for this event.

How did DCG arrive at organising this trade fair? Could you elaborate on the IT Trade Fair's primary objective?
Organising a trade fair has been on DCG's agenda since the very beginning and it has taken shape now. The main objective was to give an opportunity to members to showcase their products and services among the other UAE-based IT companies and also possibly even among IT companies based in other neighbouring countries. This is purely a B2B event, being organised for the benefit of DCG members. We noticed that large IT Exhibitions such as GITEX are too big for all the DCG members to participate, therefore we are giving an opportunity to all our members who usually take part in other exhibitions as well as for first time participants to participate in the DCG Trade Fair and showcase their products and services.  This will be a two-day seminar scheduled for 14th and 15th May at Grand Excelsior Hotel in Bur Dubai.
Who should attend and why? What kind of visitor profile are you looking at?
We invite everyone associated with doing IT business to attend this event and meet and get to know companies and the products they deal in.
Do you expect to see visitors from across GCC or is it only within UAE?
We surely welcome visitors from other countries. As this is our first event, our focus is largely on visitors from UAE.
How many exhibitors will be there and what kind of products will they be displaying?
There will be 30 exhibitors who will showcase the products they deal with. These could range from hardware and software products to services. Apart from this, we have four stands for press, three for insurance companies and one stand for banking advisor.
What kind of attractions can the attendees look forward to?
We assure the visitors a memorable experience. Apart from an opportunity to meet the IT companies with whom, some have been doing business for long but have never got an opportunity to meet in person, and also to get to know the exhibitors' full range of products and services. There are going to be other attractions such as seminars and free medical check-up.
What kind of topics can the audience expect from the seminars? What will the calibre of speakers be?
We have planned for four seminars, two on each day. Topics will be relevant to the interests of visitors and we have lined up renowned speakers. We will be releasing the speaker list few days before the exhibition.
Could you discuss some of DCG's future plans?
The objective of DCG through events such as the IT trade fair is to provide maximum benefits to our members in expanding their business. This kind of trade show also helps foster fellowship among all trade members and community. Our vision is to raise the core competency level of Dubai IT Traders and to ensure that our every activity helps both the channel and the growth of Dubai as the best IT hub in the region. This is one step from DCG in the larger leap of Dubai's vision for 2020.
DCG has got a full calendar of events scheduled for this year. On 2nd May, we have a Sports Extravaganza wherein 12 teams will compete for DCG – DLINK Cricket Tournament and DCG-DLINK Soccer Tournament. These events are sponsored by DLINK. On 14th and 15th May we have the DCG Trade Fair, which is a two-day event and its main sponsor is ASBIS. We also have an Annual General Meeting scheduled on May 27th.
How do you see the regional channel space developing in the next year or two?
Channel business in Dubai has evolved and is growing at a steady pace. And Dubai being a re-export hub, many Dubai-based companies focus on business from GCC and other Middle Eastern countries. We should see the top line growing further but there are some concerns on the bottom line, which one needs to take a cautious approach towards.
Do you have a message for the IT Trade Fair attendees?
Come and visit the first edition of DCG Trade Fair. We would like to make this a win-win experience for all. All computer companies in Dubai, members and non-members of DCG, are welcome to visit the fair. We also encourage computer companies to join DCG as becoming members would mean receiving enduring support. And increased membership will only strengthen the ecosystem further against unlawful activities.