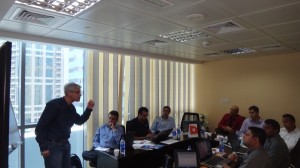 Spectrami, the value-added distributor in the MENA region in association with Violin Memory had recently organised Tech Workshop, a training workshop for its channel partners on enterprise flash storage solutions in Dubai, UAE.
Violin Memory is pioneering the future of flash storage in the enterprise data centre. Violin flash Memory Arrays deliver storage at the speed of memory, accelerating business critical applications and enabling fully virtualized and optimized IT infrastructures. Designed for sustained performance with high reliability, Violin flash Memory Arrays scale to hundreds of terabytes and millions of IOPS with low, spike-free latency.
Spectrami is the value added distributor for Violin Memory in Middle East and as part of their value added services, the company offers both sales and pre-sales training to its channel partners and the event is termed as Tech Workshop.
Channel partners from all over Middle East attended Tech Workshop that was held earlier this month in Dubai. The workshop ran separate tracks for sales and pre-sales and was well received by channel partners.
Partners such as Wipro, Al Rostamani Communications, Enterprise Objectives, Gulfnet, ISYX Technologies, Vision Horizon, Boolean IT, and Byoun Technologies, were among the few who attended Tech Workshop.
The Training Manager for EMEA region at Violin Memory, David J Ross presided over the training. He began with the introduction of the company and explained the benefits of enterprise class of flash storage solutions from Violin Memory. During the workshop, Ross also revealed the unique product architecture that gives the company's solutions a distinct advantage, according to the company.
The partners' technical teams were given hands on experience on products as well as offered deep dive technical sessions. The main focus in the sales training sessions was laid on product positioning, competitive landscape and the technical edge that Violin's enterprise flash storage solutions offers to the enterprises in the region.
Anand Choudha, Managing Director, Spectrami, said, "As a true value-added distributor, we strongly believe in enabling our channel with the right set of knowledge and skill sets. Tech Workshop provides an excellent platform for knowledge transfer but also to understand the challenges partners face in front of a customer. This is the first workshop for Violin Memory in the region and we are happy with the encouraging response from both channel partners and Violin."
Spectrami is authorised to distribute Violin storage solutions across the region including countries like UAE, Saudi Arabia, Kuwait, Qatar, and Oman, among others.