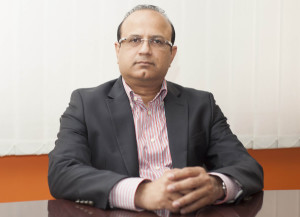 Dubai Computer Group (DCG) held its semi Annual General Meet (AGM) last evening at Grand Excelsior Hotel. Sponsored by AIG Insurance, reseller partners and members of DCG came together to discuss plans for 2015.
Over the years, DCG has achieved many success stories, including exemption of custom duties on IT products and has now increased its member count. Shailendra Rughwani, Director, DCG, said "2014 was an excellent year, we had several team-building activities such as sports, trade show and today we have the semi AGM. Next year, we plan to host a five-day B2C event at World Trade Centre during Dubai Shopping Festival 2015. The membership has gone up by about 30 percent. We expect to have about 250 members by the B2C expo. Tonight's event was sponsored by AIG and they have come up with a new credit insurance structure for IT companies." The B2C event could potentially be called DCG Shopper.
Post an informative presentation by AIG, the DCG members had the opportunity to discuss any trade credit related questions to the AIG team.
Going forward, members can expect events such as blood donation drive and indoor sport activities.
KU Shankri, Owner, Lucky Star Computers and a DCG member said, "It is good to have a unified platform to voice concerns about the business. Here, we can talk about issues and spread the awareness. DCG is now in a position to approach Government departments on any industry related issues. This event has been arranged in an extremely professional manner. And the B2C event sounds interesting and I'm looking forward to be a part of it."
"Within the GCC region, the extension of credit from suppliers to buyers is an ever-increasing problem. Suppliers' credit insurance offers suppliers the opportunity to deal with the buyers on open credit terms. Thereby giving them terms of payment of 30 or 60 or even longer such as 90 days, which helps with the cash flow of companies within the area. And in the event of one of the suppliers' customers not paying them, credit insurance will step in and replace the bad debt that they have experienced by paying them in the form of a credit insurance claim," said Marius Wolmarans, Manager Mutlinational EMEA, Trade Credit, AIG Property Casualty. "Tonight was a very good event for DCG members to experience first-hand what the product can do for them and to expand their horizons and realise that credit insurance is not only there to protect them against bad debts but also afford them the opportunity to expand their sales by having the chance to insure more clients for higher amounts."
DCG also unveiled a refreshed website, www.dcgdubai.com, which also offers members a page that can be maintained and designed to give the individual company information in the manner they choose.