Senior executives from Dell EMC – part of Dell Technologies, the newly combined entity of Dell and EMC has recently met with customers and channel partners and discuss their roadmaps to transform the UAE's business and economic landscapes.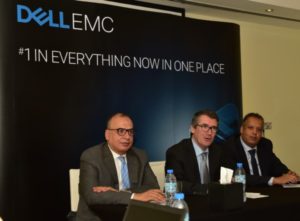 The executives, customers, and partners looked at how a digital future aligns to the UAE's national aspirations, transforming the way every business in every industry operates.  Customers charted steps to modernise and automate the technology infrastructure and services to deliver the maximum performance and availability as efficiently as possible.  Regional leaders also discussed the importance of protecting organisations' most crucial asset in a digital economy –information.  Dell EMC highlighted how the newly-combined company is built to help customers thrive in the digital era and resolve the region's most pressing business challenges including cloud, converged infrastructure, security, and mobility in the public, financial services, energy, education, and SME sectors.
Aongus Hegarty, President, Dell EMC, EMEA, outlined the insights he had earlier shared with some of the company's largest enterprise clients in the UAE, "This region  and the UAE specifically has the opportunity to make a quantum leap in using technology solutions to resolve pressing business issues – the lack of outdated infrastructure combined with the public and private sectors' focus on creating employment opportunities and forging a digital transformation in education, financial services, government and other key sectors providing tremendous opportunity for collaborative problem-solving with Dell Technologies."
During meetings with key stakeholders in the UAE, Dell EMC executives highlighted ways in which the merged company will support the government's strategy to develop a knowledge-based economy and enhance service delivery for residents in line with Vision 2021.
"As the UAE prepares to stand at the forefront of emerging markets powered on Vision 2021, there is a growing interest to facilitate innovation across every aspect of industry and human life. With Dell-EMC coming together, our customers and partners can now leverage a trusted advisor who has a rich understanding of this region, extends an unmatched portfolio of solutions to meet diverse needs and offers best in class expertise. We look forward to bringing the power of our combined investment in R&D – more than $12.7 billion over the last three years to extend the industry's most complete set of capabilities," said Mohammed Amin, Senior Vice President, Turkey, Eastern Europe, Africa and Middle East, EMC Corporation.
According to the newly combined company, its offerings provide the foundation to enable enterprise customers' digital transformation through their trusted hybrid cloud and Big Data solutions, built upon a modern data centre infrastructure that incorporates industry-leading converged infrastructure, servers, storage, and cybersecurity technologies.  Dell EMC highlighted that it has longstanding customer and channel partner relationships across the region, having enabled companies to become more customer-centric, efficient and secure; leveraging their most critical information-based assets; and reduce operational costs through technology innovation.