Citizens, residents and visitors to Dubai will be able to access non-emergency police services via a single toll-free number – 901 – following the completion of a project between Dubai Police and Avaya to transform the force's communication capabilities.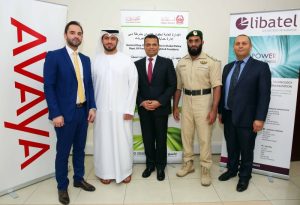 Along with channel partner Connect IT, Avaya is delivering a customer experience transformation project for Dubai Police, by upgrading the force to the latest Avaya Aura communications platform.
Members of the public will be able to contact Dubai Police using the 901 toll-free number, and also communicate with workers on social media platforms, speeding up response times and allowing police officers to receive information more efficiently.
Using Avaya Aura, the project will unify all Dubai Police branches, and deliver voice, video, data, and web communications applications and services to officers and other employees, whether they are office-based or patrolling the streets. The new communications system will provide Dubai Police staff with the ability to conference, share and view video, as well as use other collaboration tools.
"This communications upgrade will allow us to serve the public better and make Dubai a safer, happier environment," said Major Engineer Obaid Salem Bin Ghelaita, Dubai Police. "By combining non-emergency services under the 901 number, residents and visitors will be able to contact Dubai Police more easily, and by adding social media support, we can speed up response times and make services even more accessible."
"Departments such as Dubai Police have consistently been at the forefront of adopting advanced technologies with a view to improving their own service capabilities," said Mohammed Areff, Vice President, Middle East, Africa, Turkey, Avaya. "This customer experience transformation project will provide new governance models for a modern, digital world, and we are proud to work with them in realising this vision."