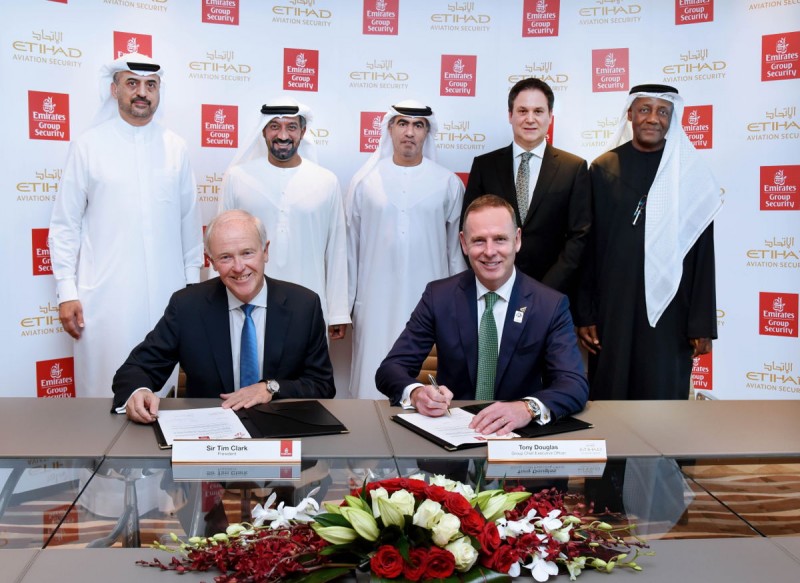 Emirates Group Security and Etihad Aviation Group (EAG) have signed a memorandum of understanding for cooperation in aviation security.
The MoU was signed by Sir Tim Clark, president of Emirates Airline, and Tony Douglas, group CEO of Etihad Aviation Group.
It was signed in the presence of His Highness Sheikh Ahmed bin Saeed Al Maktoum, chairman and chief executive, Emirates Airline & Group, Hamad Abdulla Al Shamsi, vice chairman, Etihad Aviation Group and senior representatives from Emirates Group Security, Etihad Aviation Group, at the Emirates Group Headquarters in Dubai.
The agreement, the first between the UAE's two leading aviation groups, signals the importance of closer collaboration in aviation security to effectively exploit joint synergies to enhance efficiency and security for the benefit of both groups' customers.
One of the key areas of cooperation outlined in the MoU involves the sharing of information and intelligence between Emirates Group Security and Etihad Aviation Group on critical aspects of aviation security. The two entities will also work together on operational areas both within and outside the UAE.
The firms are yet to say if the agreement will extend to cybersecurity.
HH Sheikh Ahmed said, "Security is one of the foremost priorities of the global aviation industry. Over the years, Emirates Group Security has built strong expertise and capabilities to successfully navigate the complex landscape of security risks and threats in aviation. Through this agreement, Emirates Group Security will collaborate with Etihad Aviation Group to share know-how and extend aviation security services in order to better handle shared challenges, which ultimately benefits travellers."
HE Hamad Abdulla Al Shamsi said, "This is a landmark partnership and one which is as important symbolically as it is strategically. As the national airline of the UAE, we have a responsibility to seek and develop greater collaboration with our major aviation partners in the UAE for the continued safety and convenience of millions of travellers worldwide.
"Security is our utmost priority and given the current sensitive climate we operate in, it should never be underestimated. The signing of an MoU between the two largest aviation groups in the country will have a positive impact on local and international operations by significantly enhancing aviation security measures. By working closely together, and pooling our expertise and resources, Etihad Aviation Group and Emirates Group Security will build a stronger platform from which to share best practice and knowledge, allowing us to provide the safest travelling environment for our customers."
Under the MoU, Emirates Group Security will also extend its security training and education programmes to Etihad Airways and will support the Abu Dhabi-based airline in the development of its own security escort capability. In the longer term, Emirates Group Security will also share the content and structure of its extensive security development curriculum and work with Etihad Aviation Group in setting up a structured in-house security education programme with possible university level accreditation."
In November, Emirates announced that it would build aircraft parts using 3D printing technology.