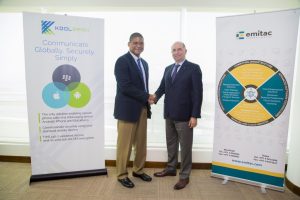 Emitac Enterprise Solutions (EES) has signed up with KoolSpan, a provider of secure communications for mobile devices, to provide their suite of solutions globally with primary coverage in the Middle East and Africa. This partnership aims to increase worldwide availability of the company's mobile encryption solutions for enterprises and government organisations, to address growing demand for secure communications technology. Enterprise and government customers in the EES footprint will now be able to enjoy the benefits of KoolSpan's centralised technology management and administration while maintaining robust end-to-end encrypted mobile communications, said the systems integrator.
KoolSpan's latest offerings, TrustCall DIRECT Enterprise Version 4.0 and TrustCall DIRECT Service Provider Version 4.5, have been specifically designed for enterprises This partnership will enable more organisations to provide encrypted communications to their employees, business partners and supply chains and ensure the protection of sensitive calls and messages from global surveillance threats. Attacks on mobile communications – including cellphone calls and text messages – by foreign governments, corporate competitors, hacktivists and cybercriminals, are not only among the fastest growing cyber threats to both government and commercial organisations, but are also particularly hard to detect.
"KoolSpan is thrilled to enter into this strategic partnership with EES," said Nigel Jones, CEO, KoolSpan. "Combining EES's market leadership, extensive reach and deep mobility expertise with KoolSpan's innovative end-to-end secure mobile calling and text messaging technology will provide our partners and customers in the EES footprint with best-in-class solutions to combat the proliferation of surveillance threats to sensitive mobile communications worldwide."
Offering a range of infrastructure, managed services, and consulting, the systems integrator designs and delivers technology-enabled business tools with high-quality customer support to a range of organisations in various industries such as financial services, government firms, the energy sectors and health care. EES's broad technology and expert services portfolio will help deliver KoolSpan's secure messaging capabilities globally, including locations in the Middle East and Africa, a region where there is significant demand for secure voice communications and messaging.
"Emitac understands the increase in demand for high quality security solutions and end-to-end encryption services and we are thrilled to enter into this strategic partnership with KoolSpan. KoolSpan brings with them an immense amount of expertise in this industry and we are certain that through this collaboration, we will provide our clients with nothing but top-notch secure communication solutions," said Tony Alam, CEO, Emitac Enterprise Solutions
"With this partnership, Emitac Enterprise Solutions enters into the African Market. The main aim of our partnership with KoolSpan focuses on making highly secure and easy to use encryption technology more reachable for Public and Private entities across the region," said Shuaib, Director Service Excellence, EES.