Etisalat has announced its fastest 5G live trial reaching 71Gbps setting a global record in the industry and showcasing exclusive 5G demonstrations this year at GITEX Technology Week.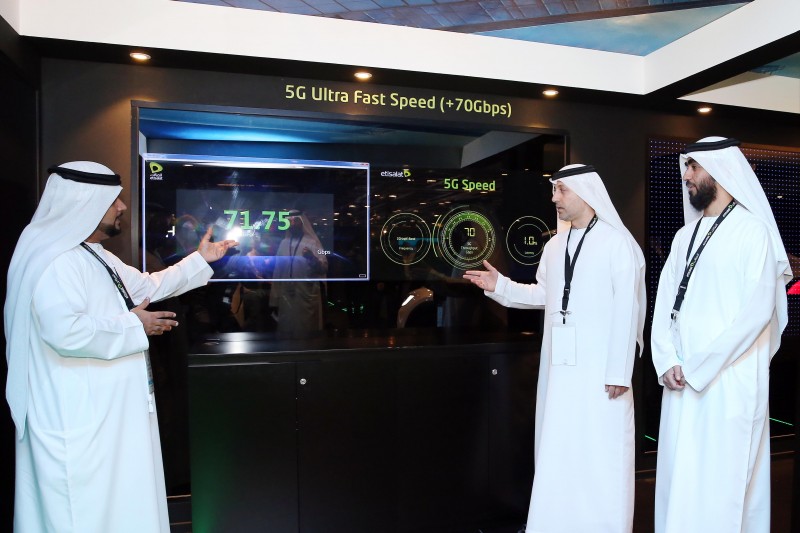 In the lead up to the 5G deployment in the UAE by 2020, Etisalat's latest technological milestone includes the live trial of a remarkable download speed of over 70 Gbps achieved over a 'pre-commercial' 5G site, operating over e-band using 2Ghz of bandwidth as well as massive MIMO.
Saeed AlZarouni, senior vice president, Mobile Network, Etisalat said, "Today Etisalat's investments in the future will play a key role in bringing growth and innovation in the country also laying the foundation for smart city development. This has given us the lead in network and the first to launch every new technology and service to customers in the telecom industry. Our field test today at GITEX Technology Week is a significant step in validating the performance of 5G in high frequency band. 5G technologies and network will deliver capacity and connectivity along with opportunities for economic growth, education, healthcare, transportation and more."
This year at GITEX Technology Week, Etisalat is also showcasing the use of 5G in healthcare, 4K video, Ultra High Quality Video and face recognition. 5G robotic surgery showcases mission critical cases remotely managed using the robustness of 5G along with augmented/virtual reality and tactile interaction.
Visitors can also witness the ultra-high resolution video experience such as 4K video and 4K virtual reality live over pre-commercial 5G site operating over C-band (3.5Ghz).
According to the telco firm, this ultra-high resolution is possible with 5G as it enhances mobile broadband with high throughput and provides virtual reality experience with ultra-low latency. This can be used in the near future in video calling and conference, augmented reality and CCTV on roads with ultra-high resolution cameras.
Another highlight is the 'Ultra High Quality Video' over 5G through a 360 degree camera that is mounted at the stand and streams live footage over a 5G network to a virtual reality in the demo area.