HP Inc has showcased its portfolion of its latest large-format products and solutions at the recently held Sign & Graphic Imaging Middle East (SGI) 2017.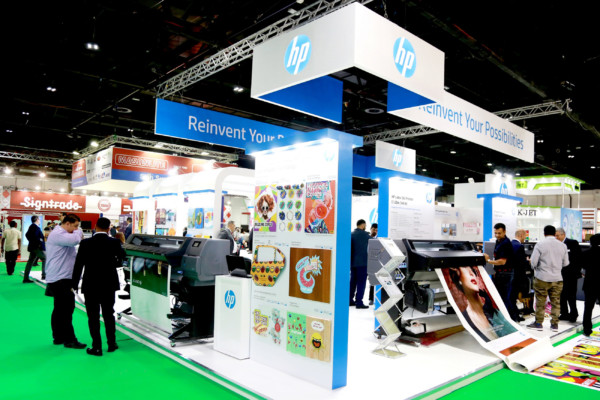 The HP stand featured a custom-built lounge area decorated with latex printed materials, which demonstrated the printing capabilities of its latest products, catering to the interior design industry.
According to the company, its latest latex printing technology allows for businesses to transform the walls of residential, commercial, and consumer spaces, offering a new innovation to interior designers and decorators. The installation on the stand is of a lounge room decorated with latex printed application.The floor graphic, canvas, wallpaper, window blinds and sofa synthetic leather and textile cushions are all printed, using the latex printing method that is unique to HP.
Michael Smetana, Head of Marketing, Graphics Solutions, HP Europe, Middle East and Africa, said, "The interior and design industries are growing at considerable rates, with companies in the UAE spending up to AED 300 million, taking the top spot in the GCC on interior design expenditure. This proves there is great potential for manufacturers to introduce new and innovative technologies to meet this growing demand."
New products showcased on the HP stand at SGI Dubai 2017 are:
HP Latex, 335 Printer: Building on years of third-generation HP Latex technology innovation, the HP Latex 335 Printer delivers high image quality, productivity and durability, as well as prints coming out completely dry and ready for finishing and delivery.
HP Latex 560 and 570 Printers: Designed for medium-to-large PSPs with increasing print volumes, the 64-inch HP Latex 560 and 570 Printers enable customers to manage a variety of print jobs and production peaks at a low upfront investment.
HP Latex 1500 Printer: The 126-inch HP Latex 1500 Printer offers a robust and affordable super-wide printing solution. The new printer provides fast turnarounds on a broad range of indoor and outdoor applications, including PVC banners, self-adhesive vinyl, textiles and double-sided prints.
PageWide XL 8000 Printer: Based on reliable HP Thermal Inkjet technology and HP PageWide XL pigment ink, the HP PageWide XL 8000 Printer offers high quality at high printing speeds. Scalable to meet a wide range of application and performance requirements, HP PageWide Technology saves up to 50 percent in total production costs in the fastest large-format monochrome and color printer.