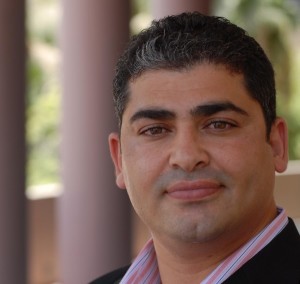 Network control provider, Infoblox has appointed Cherif Sleiman to lead the region from the company's offices in Dubai. It is expanding in the Middle East by strengthening its management, sales, and marketing and technical support teams.
With more than 20 years of sales, technical and business experience with networking and telecommunications technology companies, Sleiman has held key executive roles, including chief operating officer and chief technology officer at Core Communications, a software and IT services company focused on cloud-based business services and web and mobile apps. He spent more than six years at Cisco in various leadership positions, the last being senior director, leading the enterprise business for Middle East and Africa. He also developed the strategic vision and technology roadmap, and managed all aspects of research and development, for Nortel Networks in his role as CTO, Enterprise Business Unit.
In addition, Peter Goodwin has been appointed Systems Engineering Manager for Infoblox in the Middle East. Goodwin's previous roles include Technical Director for EMEA at Netcordia before the company was acquired by Infoblox in May 2010 and a number of senior technical positions at companies including Simpay, HP, Vodafone and British Aerospace.
Sleiman said, "Trends such as cloud, Big Data, virtualisation, security and mobility are in full effect in the Middle East. Infoblox is uniquely positioned to help organisations across the region to scale, control and secure their networks.
"Our focus is on critical national infrastructure such as oil & gas, manufacturing, banking and finance, government and utilities, logistics, healthcare and education. These verticals form the backbone of any economy and the Middle East is no different," Sleiman continued. "Organisations in the Middle East are unencumbered by legacy systems, which mean that as they embrace the latest technologies, they have the opportunity to leapfrog established organisations in other parts of the world. Infoblox is here to accelerate this transformation."
With its Middle East presence headquartered in Dubai, Infoblox has representation in most countries in the region and is also actively expanding its network of distributors and partners. "We believe in quality of partnerships rather than quantity," Sleiman said. "At the moment, most of our business in the Middle East is created by direct outreach to customers. Infoblox is working to create more partner-generated sales through channel enablement programs that allow our partners to grow with us."
Infoblox has built a comprehensive training and certification program tailored to the types of partners the company works with, and has established Authorized Training Centres (ATCs) to carry out partner training. The company says it has already experienced success in creating and funding Centers of Excellence with partners who have exceptional Infoblox capabilities. The centers enable partners to focus on ramping up their expertise rather than worrying about finding the money to do so, the company said. Also, the professional services team at Infoblox will work closely with new partners on local implementations as they gear up their knowledge and capabilities.