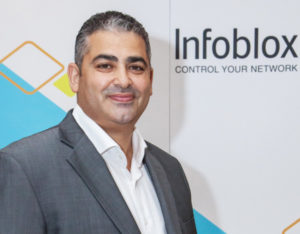 Infoblox has appointed Cherif Sleiman as Vice President of the Europe Middle East and Africa (EMEA) operation, responsible for charting the company's business strategy across EMEA. Sleiman previously oversaw the vendor's Middle East and Africa (MEA) business. According to the company, under his leadership, the MEA region grew rapidly, specifically in the areas of DNS security and network control for hybrid clouds. Sleiman will be reporting to Bill McCarthy, EVP of Worldwide Field Operations.
"The EMEA region is of strategic importance to Infoblox, so finding the right leadership is critical to our ongoing success," said McCarthy. "Sleiman has done a terrific job in leading the Middle East and Africa team over the past two years. During his tenure, he helped significantly grow the regional business while developing a strong partnership model. Under his leadership and given his expertise in security and cloud solutions, I am confident that Infoblox will flourish in the EMEA region."
"With the rising number of DDoS attacks and data breaches, DNS Security has become mandatory to ensure safe computing in service provider and enterprise networks," said Sleiman. "Organisations must realise that ignoring DNS as a threat vector can result in damaging consequences. The recent European Union General Data Protection Regulation (GDPR) aims to strengthen data protection and will hold institutions responsible for any data privacy breaches. Infoblox is uniquely positioned to help organisations comply with GDPR and other data privacy regulations by delivering DNS based security measures."
Sleiman has more than 22 years of sales, technical and business experience with some of the world's leading networking and telecommunications technology companies including Cisco Systems and Nortel Networks. He is a subject matter expert and well versed in the areas of security, compliance, cloud, and technology trends.