Kaspersky Lab has announced that for the third year in a row, it has achieves the top spot in the TOP3 metric for Internet security.
The annual TOP3 rating, assesses the performance of over 100 vendors that took part in a variety of IT security tests for corporate, consumer and mobile products during the course of the year. Tests performed in these programmes assess all protection technologies against known, unknown and advanced threats.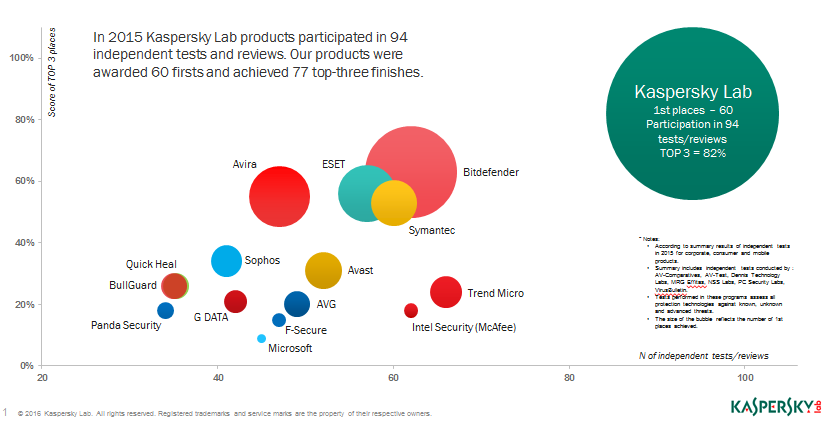 In Kaspersky Lab's TOP3 metric, each vendor is assigned a score based on the number of top three places and awards it received, relative to the number of tests in which it participated. Kaspersky Lab products participated in 94 independent tests throughout 2015, being awarded first place in 60 of them.
Nikita Shvetsov, Chief Technology Officer, Kaspersky Lab, said, "Our extensive security intelligence, built up over more than a decade, powers our approach to developing endpoint protection. Coupled with our in-house technology expertise, we not only deliver multi-layered security to deal with today's threats, but develop next generation technologies to deal with the threat landscape of tomorrow, providing the most comprehensive protection available. Securing the TOP3 top spot once again is testament to our approach and the capabilities of our product set which, time and time again, demonstrates the robust and reliable protection that we provide for consumers, SMEs and enterprise customers alike."
Among the security vendors included in the TOP3 measurements are: Avast, AVG, Avira, Bitdefender, BullGuard, ESET, F-Secure, G DATA, Intel Security (McAfee), Microsoft, Panda, Sophos, Symantec, Trend Micro, etc. Tests included in the TOP3 score assessed solutions' performance relating to malware detection and removal, mobile security, anti-phishing and parental control, among others.