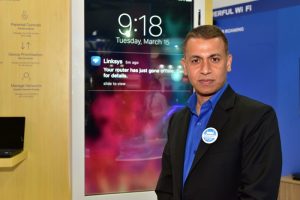 Linksys will showcase its consumer and business offerings at GITEX Technology Week 2017, with an emphasis on SMB competitiveness, serious gaming and the regional take-up of mesh networks.
A long-standing exhibitor at GITEX, Linksys said it will support the growth of the SMB market by delivering enterprise-class products at SMB prices. Its stand at the trade fair will showcase updates to its extensive product portfolio and shed light on forthcoming solutions.
The firm will also unveil the new Linksys Channel Partner programme – "a custom-built initiative to equip partners with a rich supply of resources and training materials they can use to dramatically boost their profitability."
"Middle East businesses are early adopters of the most innovative technology and is a hub for emerging smart cities," said Amanullah Khan, managing director, Linksys, Middle East, Turkey and Africa. "GITEX Technology Week connects business and technology enthusiasts with the technology solutions that will move their countries forward. It's an opportunity for Linksys to showcase ground-breaking products and solutions for companies and consumers alike, enhancing productivity and the customer experience."
GITEX will also be a platform for the regional debut of the Linksys WRT gaming edition router – the WRT32X. Incorporating the Killer Prioritization Engine (KPE), this router for serious online gamers resulted from an exclusive collaboration between Linksys and Rivet Networks.
Senior executives from the firm will be present to share insights into the state of mesh network adoption and the future of home networking.
Linksys will exhibit in Hall 2 under the 'Gulf Comms' category at GITEX Technology Week 2017, which runs at Dubai World Trade Centre from 8-12 October.